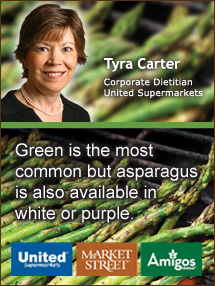 Even though I live in the South, my husband and I are planning to try our hand at growing asparagus in our home garden this year. I understand it may be 3 years before spears should be cut for harvest, but it will be worth the wait! Until then, I'll purchase from the supermarket for best seasonal pricing during the spring.
The asparagus plant is a member of the lily family, which also includes garlic, leeks and onions. A 3.5 ounce serving (approximately 5 large spears) has only 20 calories, yet delivers 13% of folate and 9% of vitamin C requirements for adults. Folate is the form of B-vitamin that is found naturally in food, whereas folic acid is a man-made form in fortified foods and supplements. It is important for building red blood cells and to prevent birth defects; women of child-bearing age need to make sure they get enough. Asparagus is also an excellent source of vitamin K.
Although green varieties are most common, asparagus is also available in white or purple. When shopping for asparagus, look for firm, fresh spears with closed, compact tips and uniform diameter to assure that all spears cook in the same amount of time. To store, trim ends about ¼-inch, wrap stems in a moist paper towel or stand upright in 2 inches of cold water and cover with a plastic bag. Refrigerate and use within 2 or 3 days for best quality. Be sure to rinse thoroughly to remove any lingering sand before cooking.
Asparagus can be roasted, braised, steamed, stir-fried, grilled or cooked in the microwave. It can be combined with other foods such as omelets, casseroles or soups. Try blanching in hot water for 1 to 2 minutes, then plunging in ice cold water for the same time period to stop the cooking process. Drain immediately and serve on a veggie tray with dip. Or toss freshly cooked whole grain pasta with asparagus, olive oil and spices such as thyme, tarragon or rosemary for a colorful and healthy side. Some of my favorite recipes for this spring treat are Bouquet Salad, Grilled Asparagus and Ham and Asparagus Bake. Eat it cold or eat it hot…but be sure to enjoy this gift of spring in recipes to please adults and kids alike!
Ham and Asparagus Bake Download Recipe
Ingredients

2 cups ham, cooked and chopped into ½-inch pieces
½ cup chopped green onions
2 cups fresh asparagus cut into ½ – 1-inch pieces,li>2 Tbsp Land 'O Lakes light butter
8 eggs 2 cups milk
½ cup all-purpose flour
¼ cup parmesan cheese, grated
¾ tsp salt
¾ tsp thyme
¾ tsp rosemary
½ tsp granulated garlic
½ tsp ground black pepper
½ – 1 cup shredded cheddar cheese

Directions

Pre-heat oven to 425º. Spray 9×13-in baking dish with nonstick cooking spray.
Cut the asparagus and green onions. Cut the asparagus into smaller pieces if it is thick.
Melt the butter in a frying pan over medium heat. Add the asparagus and green onion and sauté until tender, about 8 minutes, stirring frequently.
While the asparagus and green onions are cooking, chop the ham. Place ham, asparagus, and green onion in the baking dish.
In a large bowl, beat together the eggs, milk, flour (mix the flour with a bit of milk first), parmesan cheese, salt, thyme, rosemary, garlic, and pepper. Beat until smooth and pour over the ham mixture.
Bake uncovered for 30-35 minutes or until a knife inserted in the center comes out clean. Sprinkle with cheddar cheese. Bake an additional 3-5 minutes until the cheese is melted. Let set a few minutes before cutting and serving.

Yield: 8 servings
Source: Penzeys Spices
Nutritional analysis per serving:
calories 260
calories from fat 120
total fat 14g
saturated fat 5g
cholesterol 240mg
sodium 880mg
total carbohydrate 13g
dietary fiber 1g
sugars 4g
protein 20g
vitamin A 20%
vitamin C 6%
calcium 20%
iron 15%
Tyra M. Carter, PhD, RD, LD
Video Center: Selection. Storage. Prep.