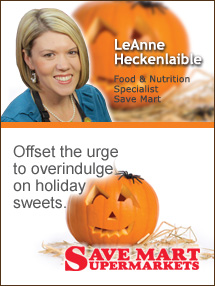 Healthy eating on Halloween can seem impossible. Add the mass of candy that comes home Halloween night to your own handout leftovers and you've got sugar overload.

How do you maintain the balance of healthy eating and still end the holiday on a positive note? First of all, remember that Halloween is a special occasion. It's a great time to relax your standards about candy eating but also a great opportunity to increase your consumption of healthy foods to offset the urges to overindulge on holiday sweets.

Check out these tips for a fun and creative Halloween filled with yummy healthy meals and treats …

Healthy Halloween-Themed Dinner
No need for ordering pizza with added calorie guilt! This year try creating a healthy Halloween Pizza Face served with Harvest Apple Salad! Shop for ingredients a few days before and prep ingredients the night before (chop & slice veggies).
Halloween Pizza Face
Use prepared pizza bread/crust, tomato or pasta sauce, light mozzarella cheese, reduced-fat turkey pepperoni, and variety of colorful veggie slices to design a ghoulish pizza face! It'll be fun for the kids and will fill them up for an exciting evening of festivities.

Harvest Apple Salad
5 cups mixed salad greens
1 apple, cored and sliced
½ cup EACH dried cranberries AND pecans
¼ cup sliced red onion
1-2 cups shredded rotisserie chicken or sliced grilled chicken
Light Dijon or vinaigrette salad dressing, to taste

In large bowl, mix lettuce, apple slices, cranberries, pecans, onions, and chicken. Just before serving, drizzle with salad dressing.
Healthy Holiday Snack Options
Creamy Pumpkin Dip & Apples
1 cup canned pumpkin or fresh pumpkin purée
1 cup light cream cheese, softened
½ cup EACH marshmallow cream AND apple sauce
Ground cinnamon and/or pumpkin pie spice, to taste (few dashes)
Apple slices

Mix all ingredients, except apple slices in medium bowl until smooth; refrigerate until ready to serve. Serve with apple slices for dipping.

Trick-or-Treat Trail Mix
Pretzels, reduce-fat cheese crackers, dried cherries and/or cranberries, dried chopped apricots or peaches, chocolate- or yogurt-covered raisins.

Caramel-Apple Salad
3 green apples, cored and chopped
1 cup chopped banana
½ cup EACH granola AND unsalted peanuts
¼ cup chocolate or yogurt covered raisins
½ cup low-fat vanilla yogurt
¼ cup fat-free caramel sundae topping or syrup

In medium bowl, mix chopped apple, banana, granola, peanuts, and raisins. In small bowl, mix yogurt and caramel sauce. Add sauce to salad; stir to coat. Refrigerate until ready to serve.

Trick-or-Treat Handouts (small individually packaged items)

Yogurt-covered raisins
Dried sweet plums, dried fruit mix
Trail mix
All-natural fruit roll-ups
Popcorn
Granola bars
Pretzels
LeAnne Heckenlaible
Food & Nutrition Specialist