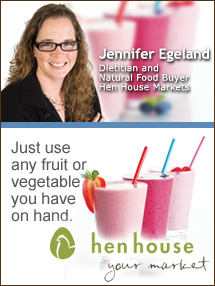 Smoothies are easy, fun and quick to make. They are nutritious and make a great snack or breakfast drink. During the hot summer days, nothing beats a cold drink! Adding fruits and vegetables (yes … even vegetables!) make the smoothie a power house snack loaded with vitamins, minerals and phytochemicals that keep you healthy and feeling great! So grab your blender and use your creativity to create a nutritious drink today!

Just use any fruit or vegetable you have on hand … fresh, frozen or canned. Kids will have fun creating new flavor combinations, maybe peach mango or cranberry grape! There are many recipe sites on the internet that can help you with your recipe search.

Basic Steps to Create a Smoothie …
Start with any fruit or vegetable: fresh, frozen or canned.
Use milk, soymilk, yogurt or fruit juice to make the smoothie the consistency you prefer.
Add ice.
If you want to sweeten, use honey, agave or other sweetener of your choice.
Add peanut butter or protein powder to add protein for added nutrients.
Blend ingredients in a blender till smooth.
Enjoy!
Recipes
All Fruit Smoothie

Peanut Butter & Banana Smoothie

10 ounces skim milk or plain soy milk
1 tablespoon natural peanut butter
1 medium banana

Strawberry Banana Smoothie

4 cups sliced fresh strawberries
1 medium banana, sliced
1 6-ounce carton vanilla low-fat yogurt
1 cup ice cubes

Green Blast Smoothie

4 cups packaged fresh baby spinach leaves
2 cups seedless green grapes
1 medium banana, cut up
3/4 cup seeded, chopped green sweet pepper
1/2 cup unsweetened apple juice

Recipes courtesy allrecipes.com
Jennifer Egeland, RD LD
Dietitian and Natural Food Buyer
Fruit & Vegetable Recipes
Video Center: Selection, Storage, and Preparation of Fruits & Vegetables.