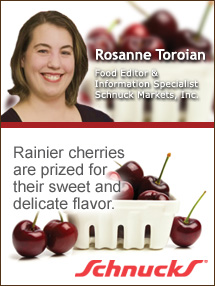 Nothing tops a bowlful of seasonal fresh cherries, especially the plump, deep red-nearly black Bing cherries in abundance this time of year. These succulent, heart-shaped treasures explode with rich, juicy sweetness.

Rainier cherries (also peaking this month) are a cross between Bing and Van varieties. Characterized by a golden hue with a pink blush and a creamy-yellow flesh, these jumbo cherries are prized for their sweet and delicate flavor. Temperamental Rainiers generally command higher prices due to their sensitivity to changes in nature and their susceptibility to bruising. They are highly prized in Japan and have a history of costing 75 cents … each.

How to Select Cherries
Choose firm, shiny, and plump cherries that don't appear bruised or blemished. Try to pick cherries with their stems attached. Stemless cherries are prone to mold more quickly.

How to Prepare Cherries
To prepare, pluck off stems, wash and carefully remove pit with a paring knife or a hand-held/mechanical cherry pitter. For a demonstration on pitting cherries, check out this Pitting Cherries Video. Just remember to place a bowl under the cherries to catch all of their mouthwatering juices.

How to Store Cherries
Store unwashed cherries in a plastic bag in the refrigerator.

Cherry Pie
For a taste of summer, bake a fresh cherry pie. A popular choice this time of year, here's a recipe that uses 2-1/2 pounds of fresh cherries. But this Year-Round Cherry Pie recipe converts easily when only frozen or canned cherries are available.

This recipe allows for many additional flourishes. For instance, if you like, add 1 tablespoon fresh lemon juice, 1/2 teaspoon pure vanilla extract and/or 1/8 teaspoon ground cinnamon to the cherry mixture. Homemade pie crust is always a special touch, and you may want to brush the top crust lightly with half-and-half or cream; sprinkle the top lightly with a mixture of brown sugar and granulated sugar.

Year-Round Cherry Pie

Active Time: 10 minutes
Total Time: 1 hour 20 minutes plus cooling

1 package (14.1 ounces) refrigerated pie crusts
2 ½ pounds fresh sweet cherries, pitted or 3 bags (12 ounces each) frozen pitted dark sweet cherries or 3 cans (15 ounces each) pitted red tart cherries in water (with ¼ cup cherry water from 1 can and remaining water drained)
3/4 cup granulated sugar
1/3 cup cornstarch
1/8 teaspoon salt
1 ½ tablespoons unsalted butter

Preheat oven to 375°F. Line large cookie sheet with aluminum foil. Soften pie crusts slightly as label directs. Meanwhile, in large bowl, toss cherries with sugar, cornstarch, salt and, if using canned tart cherries, ¼ cup cherry water from can.
Line glass or ceramic 9- to 9 ½-inch pie plate with 1 pie crust. Pour cherry mixture into crust; cut butter into small pieces over filling. Place second pie crust over filling; press edges of bottom and top crusts together to seal well. Cut out 1-inch circle of crust from center of pie; cut six 1-inch slits around top crust.
Place pie on middle oven rack with prepared cookie sheet on lowest rack beneath pie to catch any juice that may overflow. Bake pie 1 hour 10 to 20 minutes or until center of pie bubbles. Cool on wire rack 1 hour to serve warm, or cool completely to serve later. Pie can be stored at room temperature up to 2 days, or refrigerate pie up to 1 week.
Rosanne Toroian
Food Editor & Information Specialist
Schnuck Markets, Inc.
Fruit & Vegetable Recipes
Video Center: Selection, Storage, and Preparation of Fruits & Vegetables.