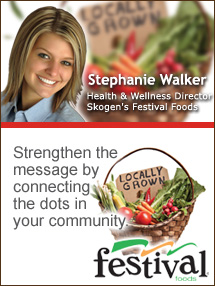 It is no secret that consumers are seeking out more and more locally-grown produce. For this reason, supermarkets are building relationships directly with local farmers to bring fresh produce from family farms to our stores, and in essence, to your table. However, supermarkets are not the only ones working on these initiatives!

A couple weeks ago I had the pleasure of attending a local Farm to School meeting. While there, I learned a lot about the program, and was also given the opportunity to get involved.

Farm to School connects schools (K-12) and local farms in order to serve healthy meals in school cafeterias, improve student nutrition, provide agriculture, health and nutrition education opportunities, and support local and regional farmers. For my local school program in particular, nutrition education currently includes chef-led cooking classes using local ingredients, lesson plans for elementary teachers, parent handouts, and monthly taste testing in school cafeterias. All educational activities are built around the "Harvest of the Month," a locally-grown fruit or vegetable that is featured each month.

For the first time this coming fall, my local school program will be spreading their word in an additional venue – supermarkets! The "Harvest of the Month" will be highlighted in supermarket produce departments on a monthly basis, in hopes that the repeated impressions on the children and adults will positively impact vegetable consumption within the region, because more matters!

There is a growing awareness that the supermarket can be a perfect place to educate consumers on nutrition. However, if you can successfully connect the dots (of nutrition messaging) throughout a community, you have a much stronger message.

Do you know a supermarket that might like to be involved? Check out the Farm to School website to see if there is a program near you that you might be able to connect them with! Now is the time – fall plans are in the works!

Want to see the program in action? Check out these great videos featuring some of the students participating in the Farm to School program:

La Crosse County Farm To School
Kids Cheering for Vegetables? Farm to School Works!

Stephanie Walker, RD, CD

Health & Wellness Director

Fruit & Vegetable Recipes

Video Center: Selection, Storage, and Preparation of Fruits & Vegetables.