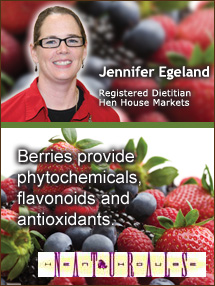 Everyone has their favorite fruit; mine happen to be berries – strawberries, blueberries, raspberries and blackberries. They are nutritious, colorful, flavorful and easy to prepare. Whether you get them fresh from the store, grow or pick your own, buy them frozen or dried, berries are a wonderful treat in the spring and summer time.
Berries are incredibly nutritious and give our body phytochemicals, flavonoids and antioxidants to keep us healthy and help prevent disease and cancer. One cup of strawberries contains over 100 mg of vitamin C, nearly as much as a cup of orange juice.
One cup of blueberries includes vitamin C, minerals and phytochemicals with only 83 calories. One cup of raspberries contains vitamin C, vitamin K, and phytochemicals with only 64 calories.
Ideas for Serving Berries
Add extra berries to muffins or pancakes
Top a bowl of berries with a dollop of light-whipped topping and a sprinkling of chopped nuts
Add berries to a bowl of whole grain cereal or oatmeal
Stir fresh berries into yogurt or light ice cream
Combine frozen berries with bananas and low-fat milk to make a smoothie
Top off an angel food cake with berries
Video Center: Selection. Storage. Prep.