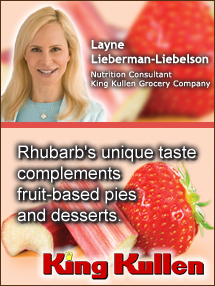 Passover begins at sundown on April 8th, and ends at nightfall on April 16th (8 day holiday).
Easter Sunday is April 12th.
During the holidays of Easter and Passover we reflect on renewal, a perfect time to celebrate the spring harvest. Eat green and choose seasonal fruits and veggies to compliment holiday menus. Favorites include spinach, asparagus, artichokes, strawberries and rhubarb.
You can't have Easter or Passover without eggs. An asparagus and egg omelet is a nice beginning to a holiday brunch. Asparagus are a dieter's delight averaging 4-5 calories per spear. Asparagus taste better cooked, but can be eaten raw. To prepare, cut off and discard tough ends. Steam until tender, 5-8 minutes or stir-fry (cut diagonally into ½-inch pieces) for 3-5 minutes. Asparagus can also be roasted: preheat oven to 400 degrees and roast 10-15 minutes.
Nutrition Facts for 1-cup raw asparagus: 27 calories, 0 g fat, 5 g carbohydrate, 3 g dietary fiber, 3 g protein, 3 mg sodium, 270 mg potassium, excellent source of vitamin A and good source of vitamin C and folate.
Another nice addition to a holiday gathering is strawberry-rhubarb compote. Rhubarb is a vegetable with a unique taste that complements fruit-based pies and desserts. Remember, only the stalks are edible.
Nutrition Facts for 1-cup raw rhubarb: 26 calories, 0 g fat, 5.5 g carbohydrate, 2 g dietary fiber, 1 g protein, 5 mg sodium, 350 mg potassium, 105 mg calcium.
Strawberry Rhubarb Compote
4 cups (1/2-inch pieces) fresh rhubarb (from about 1 1/2 pounds)
½ -¾ cups raw sugar
2 tablespoons fresh lemon juice
3 cups strawberries, halved
Combine the first three ingredients in a non-reactive large saucepan. Stir over medium heat until sugar dissolves. (Add a small amount of water if needed.) Reduce heat to a simmer and cover until rhubarb is tender, stirring occasionally, about 8 minutes. Stir in strawberries and cook 2 more minutes. Transfer mixture to bowl. Cover and chill until cold, about 2 hours. (Can be made a day ahead. Keep refrigerated.). Serves 6.
Per serving (with ½ cup sugar): 106 calories, 0 g fat, 26 g carbohydrate, 3 g dietary fiber, 1 g protein, 4 mg sodium, excellent source of vitamin C.
Layne Lieberman-Liebelson, RD, MS, CDN
King Kullen Grocery Company
Video Center: Selection. Storage. Prep.