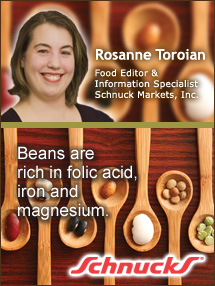 In the UK, baked beans come standard with a full English breakfast. A healthy, satisfying start to the day, perhaps this tradition sprouted because each 1/2 cup of beans provides about one-third of one's daily requirement of soluble fiber, about the same amount as 2/3 cup prepared oatmeal. Fiber helps keep cholesterol low and prevent chronic disease.
Rich in folic acid (a B vitamin that helps protect against birth defects), iron (prevents anemia) and magnesium (a mineral important for a healthy heart and bones), beans are especially popular because they're a great source of protein, though beans need to be consumed with other grains and vegetables that make them an effective protein source.
Beans are an economical addition to any meal. Check out these tasty ideas …
Rosanne Toroian
Food Editor & Information Specialist
Schnuck Markets, Inc.
Fruit & Vegetable Recipes
Video Center: Selection, Storage, and Preparation of Fruits & Vegetables