Holiday party food can be a diet disaster, in particular the appetizer or hor d'oeuvres portions.  These tasty, little morsels tend to be loaded with fat and calories and before you know it, you've consumed your calorie quota for the entire day!  The good news is that there are options that are equally delicious, yet a fraction of the fat and calories.  Even better, these choices incorporate healthier ingredients that won't leave your guests feeling bloated, which will allow them to enjoy the rest of the party.
Let's start with something that is common at most parties–a crudite tray.  However, rather than the typical fatty dip, try a homemade hummus instead.  This recipe from Fruits & Veggies–More Matters is ready in just 15 minutes.  It uses garbanzo beans, sesame seed paste, garlic and lemon juice, along with spices to give the dip its flavor.  Serve with a variety of fresh veggies and some baked pita bread.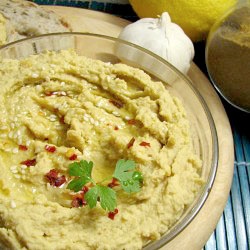 Mushrooms are particularly popular for hors d'oeuvres, but depending on how they are prepared, they can be either healthy or not so much.  Stuffed mushrooms are a prime example.  Replace those sausage stuffed mushrooom caps with this recipe for Hass Avocado Stuffed Mushrooms.  These mushroom caps have been marinated in a savory dressing and topped with a blend of avocado and feta cheese.  The bonus–no baking involved!  Another way to incorporate mushrooms into your appetizer menu is with this recipe for Mini Mushroom Quiche Caps.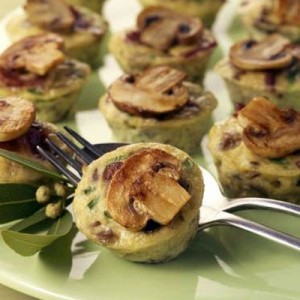 Contininuing with the idea of passed hors d'oeuvres, a healthy option and one of my personal favorites is bruschetta.  I enjoy a fresh tomato topping, which includes diced tomatoes, a bit of diced red onion, chopped fresh basil and cracked black pepper.  Another option, using mushrooms is Mushroom Bruschetta, which also includes onion, garlic and lots of herbs and spices.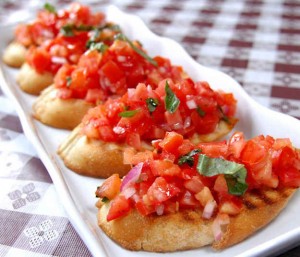 Finally, instead of the traditional cream cheese stuffed celery sticks, try Celery Stuffed w/Apricot Blue Cheese Spread.  Apricots, figs and pecans add a flavor and texture to this old favorite without adding fat and calories.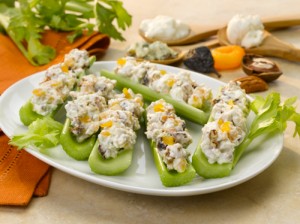 You can see a healthy holiday party can also mean serving flavorful hors d'oeuvres.  In fact, using different ingredients and serving these options will probably be a welcome change to the usual display of appetizers that your guests are accustomed to seeing at holiday functions.  Enjoy, celebrate the season and be healthy!
See all posts