Make Half Your Plate Fruits & Veggies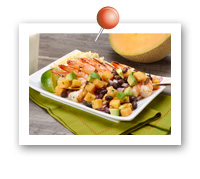 Savory sweet salsa featuring melon and avocado is the perfect complement to grilled shrimp.
Recipe Cost for 4 People: $18.06 ($4.51/serving)*
Preparation Time: 30 minutes
1 lb large or jumbo shrimp, uncooked
1 Tbsp canola oil
1 clove diced garlic
4 bamboo skewers
Salsa
1 lime, divided (½ for salsa, ½ for garnish)
1 Del Monte® Hass avocado, cubed
2 cups diced Del Monte MAG® melon
Preparation Time: 30 minutes
Grilled Shrimp with Melon Avocado Salsa
¼ cup chopped red onions
1 cup unsalted canned black beans, drained and rinsed
¼ tsp salt
⅛ tsp black pepper
2 Tbsp chopped fresh cilantro
Preheat grill. Slice lime in half. In a small bowl, squeeze juice from one half of lime; reserve other half for garnish Add remaining salsa ingredients and gently mix. Peel shrimp, leaving tails on. Skewer shrimp on bamboo skewers. In a small dish mix together canola oil and garlic. Coat shrimp with oil-garlic mix. Grill 4-5 minutes or until cooked. To serve, top shrimp with salsa, garnish with lime wedges.

Complete this Healthy Plate: Serve with 8 oz non-fat milk and brown rice.
Serves: 4
Fruits & Veggies per Serving
1 Cups
Nutrition Info
Calories: 330
Total Fat: 14g
Saturated Fat: 1.5g
% of Calories from Fat: 38%
% Calories from Sat Fat: 4%
Protein: 29g
Carbohydrates: 24g
Cholesterol: 150mg
Dietary Fiber: 8g
Sodium: 340mg
Each serving provides: An excellent source of protein, fiber, vitamin A, vitamin C, vitamin B6, folate, vitamin B12, potassium, iron, phosphorus and magnesium, and a good source of vitamin E, thiamin, niacin, pantothenic acid, calcium, zinc and copper.
*Retail prices, Boulder, Colorado, and online, Summer and Fall 2015.