Make Half Your Plate Fruits & Veggies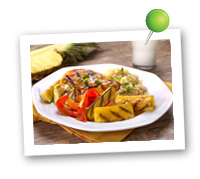 Fresh pineapple chunks and an easy glaze made with pineapple juice add tropical and zingy flavors to grilled chicken.
Recipe Cost for 4 People: $14.22 ($3.56/serving)*
Preparation Time: 45 minutes
1 cup whole wheat couscous, dry
1 lb skinless, boneless chicken breasts, cut into 4 portions
1 Tbsp olive oil
⅛ tsp salt
¼ tsp pepper
1 large sweet yellow onion, cut into wedges
2 large zucchini, cut into chunks
1 red pepper, cut into 8 strips
1 orange pepper, cut into 8 strips
8 Del Monte Gold® Extra Sweet pineapple spears (about 1 oz each) 2½" x 1¼"
1 green onion, sliced
Pineapple Ginger Glaze
1 bottle (12 fl oz) Del Monte Pure Earth™ 100% Pineapple Juice
¼ cup apple cider vinegar
3 Tbsp brown sugar
1½ Tbsp light soy sauce
1 Tbsp minced ginger
1 Tbsp Dijon mustard
Preheat grill to medium heat. On the stove top, cook couscous according to package directions. While couscous is cooking, toss chicken breast with oil, salt and pepper. Grill chicken, for 2 minutes per side or until grill-marked. Continue to grill, basting and turning with Pineapple Ginger Glaze, for 5 to 6 minutes or until cooked. Grill onion, zucchini, red pepper, orange pepper and pineapple spears, basting with pineapple ginger glaze, for 3 to 5 minutes or until grill-marked and tender. Serve chicken with vegetables and pineapple. Serve over couscous and garnish with green onions.

Pineapple Ginger Glaze: Combine pineapple juice, vinegar, brown sugar, soy sauce, ginger and mustard in a medium saucepan set over medium-high heat. Bring to a boil; boil for about 15 minutes.

Complete this Healthy Plate: Serve with an 8oz glass of non-fat milk.
Serves: 4
Fruits & Veggies per Serving
2.75 Cups
Nutrition Info
Calories: 500
Total Fat: 8g
Saturated Fat: 1.5g
% of Calories from Fat: 14%
% Calories from Sat Fat: 3%
Protein: 32g
Carbohydrates: 79g
Cholesterol: 65mg
Dietary Fiber: 10g
Sodium: 520mg
Each serving provides: An excellent source of protein, fiber, vitamin A, vitamin C, niacin, vitamin B6, folate, potassium, phosphorus and magnesium, and a good source of thiamin, riboflavin, pantothenic acid, iron, zinc and copper.
*Retail prices, Boulder, Colorado, and online, Summer and Fall 2015.