Make Half Your Plate Fruits & Veggies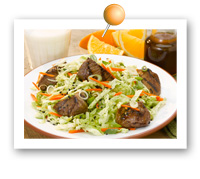 Grilled lamb is delightful with any green salad, especially this Asian-inspired version.
Recipe Cost for 4 People: $8.63 ($2.16/serving)*
Preparation Time: 2 hours for marinating lamb; 30 minutes for preparation

2 tbsp sugar
2 tbsp rice vinegar
3 tbsp soy sauce
¼ cup water
1 tbsp vegetable oil
12 oz boneless leg of lamb, cut into 1-inch cubes*
4 bamboo skewers
6 cups shredded Savoy, Napa, or green cabbage
2 carrots, shredded
3 green onions, sliced
2 tbsp black or white sesame seeds
1 small jicama, julienned (optional)

Mix marinade/dressing ingredients; divide evenly. Place lamb cubes in a glass dish; pour half of the marinade/dressing over the lamb. Cover and refrigerate at least two hours. In a large bowl, toss cabbage, carrots, jicama (optional), onions, and sesame seeds. Remove lamb and discard marinade. Soak bamboo skewers in water for 30 minutes; divide lamb among the 4 skewers. On hot grill, cook the lamb skewers 5-6 minutes per side (or to desired degree of doneness). Remove lamb from skewers, add to salad, and toss. To serve, divide salad evenly on four plates. Drizzle with remaining dressing.
*If cubed leg of lamb is not available at your meat market, ask the butcher to prepare it for you.

Complete this Healthy Plate: Enjoy with 8 oz non-fat milk and orange slices/wedges (½ orange).
Serves: 4
Fruits & Veggies per Serving
1.75 Cups
Nutrition Information per Serving:
Calories: 260
Total Fat: 9g
Saturated Fat: 2.5g
% of Calories from Fat: 31%
% Calories from Sat Fat: 9%
Protein: 23g
Carbohydrates: 20g
Cholesterol: 70mg
Dietary Fiber: 8g
Sodium: 530mg
Each serving provides: An excellent source of fiber, protein, vitamin A, vitamin C, niacin, riboflavin, vitamin B12, phosphorus, and zinc, and a good source of potassium, calcium, and iron.
*Retail prices, Boulder, Colorado, and online Fall 2011