Make Half Your Plate Fruits & Veggies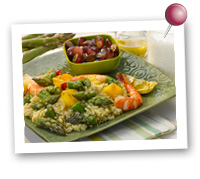 Grilling brings out the flavor in luscious fresh vegetables like California asparagus. Add shrimp, quinoa, and refreshing lemon vinaigrette, and you have a delicious and quick spring or summer salad.
Recipe Cost for 4 People: $24.06 ($6.01/serving)*
Preparation Time: 45 minutes
Lemon Vinaigrette

1 tsp grated lemon peel (optional)
3 tbsp fresh or bottled lemon juice
2 tbsp olive oil
1 tsp Dijon mustard
½ tsp dried thyme leaves
½ tsp ground black pepper

Salad

2 cups fresh asparagus, large spears, cut into 1" pieces
½ yellow or red bell pepper, cut into ½" pieces
1 clove garlic, minced
1 14 oz can quartered artichoke hearts, drained
12 oz fresh or frozen jumbo or large raw shrimp, peeled and deveined
1½ cups dry quinoa, cooked according to directions

Place vinaigrette ingredients in a small bowl and whisk; set aside. Cut vegetables as directed. Heat grill and grilling tray. Place vegetables and shrimp in a large bowl; add about ⅓ of the vinaigrette (about 3 tbsp) and toss. Spread shrimp-vegetable mixture over hot grilling tray. Grill, turning shrimp and vegetables, until done (about 5-6 minutes); remove from grill. Serve grill mixture over cooked quinoa, and drizzle with vinaigrette.

Complete this Healthy Plate: Serve with 8 oz (1 cup) non-fat milk and ¾ cup red grapes.
Serves: 4
Fruits & Veggies per Serving
1.25 Cups
Nutrition Information per Serving:
Calories: 500
Total Fat: 19g
Saturated Fat: 3.5g
% of Calories from Fat: 34%
% Calories from Sat Fat: 6%
Protein: 33g
Carbohydrates: 52g
Cholesterol: 125mg
Dietary Fiber: 7g
Sodium: 570mg
Each serving provides: : An excellent source of fiber, protein, vitamin C, vitamin E, thiamin, niacin, vitamin B6, folate, calcium, iron, phosphorus, magnesium, zinc, and copper, and a good source of vitamin A, riboflavin, vitamin B12, and potassium.
*Retail prices, Boulder, Colorado, Winter 2012