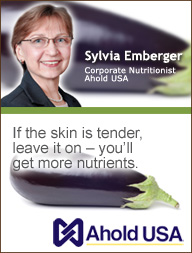 Eggplant is used in Mediterranean, Middle Eastern, Indian and Asian cooking. In Italian it's called
melanzana
, and in French,
aubergine
but by any other name,
eggplant
is a delicious, versatile vegetable worth trying. The eggplants most familiar to us are either dark purple, white or striped. They range in size from round hens' eggs (hence, the name) or slim fingers to foot-long submarines!
Selection & Storage
Choose eggplant that has a smooth, glossy skin free from cracks. You should use a fresh eggplant as soon as possible after purchasing but you can store unwashed, uncut eggplant in the refrigerator for up to 5-7 days. Before preparing, rinse eggplant thoroughly then cut off the stem and cap.
How to Prep Eggplant
Your grandmother may have salted eggplant to remove the bitterness but that can greatly increase the sodium in your recipe. Most of the newer varieties lack bitterness, so salting isn't necessary, especially if the eggplant is young or fresh. If the skin is tender, leave it on – you'll get more nutrients and your finished recipe will look nicer with some color.
Eggplant can be grilled, broiled, baked, sautéed, microwaved, stewed or pickled. Slice it in half, hollow it out and fill with meat, rice, nuts or other vegetables. It pairs well with
tomatoes
,
zucchini
,
onions
,
garlic
,
mushrooms
, cheese, oregano and marjoram. Use eggplant in recipes such as ratatouille, moussaka, caponata, baba ganouj or eggplant parmesan.
Recipe
Try eggplant in this lighter version of traditional Greek moussaka. Serve with crusty bread and a garden salad and finish the meal with juicy peaches.
Turkey Moussaka
Makes 6, 1 cup servings
Prep time: 30 minutes
Cook time: 30 minutes

Ingredients

1 large eggplant, cut into 1/2 to 1-inch cubes
1 ¼ lb 93% lean ground turkey
½ cup chopped onion
2 cloves garlic, crushed
⅛ tsp ground black pepper
8 oz can tomato sauce
½ tsp dried oregano
¼ tsp ground cinnamon
1 large egg, beaten
¼ cup all-purpose flour
1 ½ cups nonfat milk
¼ cup grated Parmesan cheese

Directions
In a large skillet, cook eggplant in a small amount of boiling water until just tender, about 3 minutes. Drain well. In a large skillet cook turkey, onion and garlic until browned. Stir in pepper, tomato sauce, oregano and cinnamon. Simmer for 5 minutes. In a medium saucepan whisk together flour and milk. Cook and whisk until thickened and bubbly. Whisk in egg and Parmesan cheese. To assemble, in an 8×8-inch baking dish, layer half of the eggplant, all of the meat mixture, then remaining eggplant. Pour cheese sauce over all. Bake at 350 degrees for 30 to 35 minutes.

Nutrition information per serving: 250 calories,11g fat, 3.5g saturated fat, 105mg cholesterol, 390mg sodium, 16g carbohydrate, 4g fiber, 7g sugars, 25g protein
Sylvia Emberger, RD, LDN
Corporate Nutritionist
Ahold USA
Fruit & Vegetable Recipes
Video Center: Selection, Storage, and Preparation of Fruits & Vegetables.