Make Half Your Plate Fruits & Veggies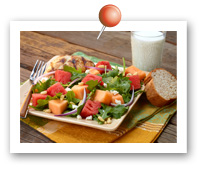 Enjoy this super-quick and refreshing salad featuring melon and feta cheese. You can substitute any of your favorite fresh-cut fruit items, such as grapes, mangoes, etc.
Recipe Cost for 4 People: $12.25 ($3.06/serving)*
Preparation Time: 15 minutes
Vinaigrette
2 Tbsp balsamic vinegar
1 ½ Tbsp olive oil
Dash of black pepper
Salad
2 cups Del Monte® watermelon chunks
2 cups Del Monte® cantaloupe chunks
¼ medium red onion, thinly sliced
6 cups fresh spinach or arugula
½ cup reduced-fat feta cheese crumbles
¼ cup pine nuts
Whisk together vinaigrette ingredients. Toss with remaining ingredients and serve.

Complete this Plate: Serve with grilled chicken breast, slice rustic whole grain bread and glass of skim milk.

Serves: 4
Fruits & Veggies per Serving
2.5 Cups

Nutrition Info
Calories: 220
Total Fat: 13g
Saturated Fat: 2.5g
% of Calories from Fat: 53%
% Calories from Sat Fat: 10%
Protein: 8g
Carbohydrates: 19g
Cholesterol: 5mg
Dietary Fiber: 4g
Sodium: 320mg
An excellent source of fiber, vitamin A, vitamin C, folate, iron and magnesium, and a good source of protein, potassium and calcium.
*Retail prices, Boulder, Colorado, and online, Winter 2016.