Make Half Your Plate Fruits & Veggies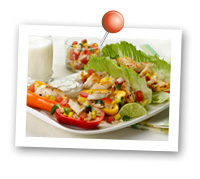 Using bell peppers and lettuce for wraps is a fun way to increase vegetables on the plate. Flavorful Bellafina® peppers and Frescada™ lettuce are perfect for a build-your-own Southwestern meal or as appetizers.
Recipe Cost for 4 People: $14.12 ($3.53/serving)*
Preparation Time: 45 minutes
6 Bellafina® peppers
8 Frescada™ lettuce leaves
1 cup instant brown rice, dry, or other quick cooking grain, such as whole-wheat couscous
1 lb tilapia filets, fresh or frozen (thawed)
2 tsp Southwest chipotle seasoning, no-sodium, such as Mrs. Dash
2 T canola oil, divided
¼ tsp salt
2 limes, divided
¼ cup reduced fat sour cream
Salsa Fresca
½ cup yellow corn, frozen or canned, no-salt added
1 medium tomato
1 small onion
1 clove garlic, minced
1 jalapeño pepper, minced
¼ tsp salt
Slice Bellafina® peppers in half vertically. Arrange Frescada™ lettuce and 8 pepper halves on a serving platter. Cook brown rice according to package directions. To make salsa fresco, dice remaining pepper halves, tomato, and onion; mix with corn, garlic, and jalapeño pepper, and ¼ tsp salt. Sprinkle both sides of tilapia filets with Southwest chipotle seasoning. Heat 1½ T canola oil in a large nonstick skillet over medium-high heat. Add fish to pan, and cook for 3 minutes on each side or until fish flakes easily when tested with a fork or until desired degree of doneness. Flake with a fork and place in a serving dish. When rice is done, stir in remaining ½ T oil, juice from one lime, and ¼ tsp salt. Cut remaining lime into wedges. To serve, set out pepper-lettuce platter, rice, fish, salsa fresca, sour cream, and lime, and let diners build their own boats and wraps.

Variation: Substitute tilapia with shredded chicken or pork.

Complete this Healthy Plate: Serve with 8 oz glass of non-fat milk.
Serves: 4
Fruits & Veggies per Serving
1.5 Cups
Nutrition Info
Calories: 350
Total Fat: 12g
Saturated Fat: 2.5g
% of Calories from Fat: 31%
% Calories from Sat Fat: 6%
Protein: 28g
Carbohydrates: 34g
Cholesterol: 60mg
Dietary Fiber: 5g
Sodium: 370mg
MyPlate Contributions
Vegetables
Fruit
Grain
Protein
Dairy
1.25 cups
0.25 cup
1 oz
3 oz
0 cup
Each serving provides: An excellent source of protein, vitamin A, vitamin C, vitamin D, niacin, vitamin B6, folate, vitamin B12, potassium, phosphorus, and magnesium, and a good source of fiber, vitamin E, thiamin, riboflavin, and copper.
*Retail prices, Boulder, Colorado, and online, September 2012-September 2013.