Make Half Your Plate Fruits & Veggies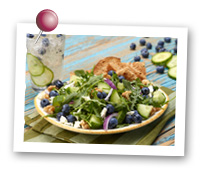 A quick, simple and refreshing salad featuring fresh blueberries and crisp cucumber chunks with feta cheese, arugula and a lime vinaigrette.
Recipe Cost for 4 People: $8.33 ($2.08/serving)*
Preparation Time: 20 minutes

Vinaigrette

1 ½ Tbsp extra virgin olive oil
2 Tbsp white balsamic (or other) vinegar
1 Tbsp lime juice, freshly squeezed or bottled
1 tsp sugar
¼ tsp salt
⅛ tsp pepper

Salad

1 cup fresh blueberries
1 medium greenhouse-grown cucumber, cut into small chunks
4 cups fresh arugula
¼ medium red onion, thinly sliced
¼ cup crumbled reduced-fat Feta cheese
2 Tbsp coarsely chopped walnuts (toasted optional)
4 slices whole grain bread

In a small bowl whisk together vinaigrette ingredients. In a large bowl mix together all salad ingredients, except bread. When ready to serve, add vinaigrette to salad and toss. Toast bread, then cut into four pieces.

Complete this Plate: Serve with lime infused water.

Serves: 4
Fruits & Veggies per Serving
1.25 Cups
Nutrition Information per Serving:
Calories: 200
Total Fat: 10g
Saturated Fat: 2g
% of Calories from Fat: 45%
% Calories from Sat Fat: 10%
Protein: 7g
Carbohydrates: 22g
Cholesterol: 5mg
Dietary Fiber: 4g
Sodium: 370mg
Each serving provides: A good source of protein, fiber, vitamin A, vitamin C and calcium.
*Retail prices, Boulder, Colorado, and online, Winter 2017.