Make Half Your Plate Fruits & Veggies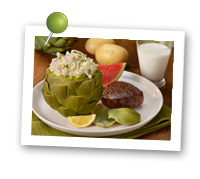 Liven up dinner with this scrumptious dish! Dip artichoke leaves in smashed potato and crab stuffing. You can serve with any lean protein or serve alone for a light lunch or dinner.
Recipe Cost for 4 People: $21.34 ($5.33/serving)*
Preparation Time: 1 hour 15 minutes

4 Ocean Mist Farms artichokes
1 lemon, divided
2 medium Colorado Russet or yellow potatoes
1 green onion w tops, chopped
¼ cup plain lowfat yogurt
½ Tbsp butter
¼ cup nonfat milk
Pinch ground cayenne pepper
1 6.5 oz. can lump crab meat, drained
¼ cup grated Parmesan cheese

Prepare and cook artichokes: Half fill a large pot with water. Add juice of ½ lemon to the water, bring to a boil. Cut off and discard stem at the base. Peel off outer layer of leaves. Cut off 1 inch from the top of each artichoke. Trim leave tips with kitchen shears. Add artichokes to water; simmer covered for about 25-30 minutes. (Alternatively, you can steam the artichokes in a steamer basket with about 1 inch of water.) Drain and add cool water to halt further cooking. When artichokes are cool enough to handle, remove from water.

Prepare stuffing: While artichokes are cooking, peel and dice potatoes. Add to a second pot. Cover with water. Bring to boil, then simmer about 15 minutes, until potatoes are tender. Drain and place in a mixing bowl. Mash with a fork. Chop green onion; add to mixing bowl along with yogurt, butter, milk and pepper. Gently fold in crab.

Stuff and bake artichokes: Heat oven to 350 ?F. Spread the center leaves of the artichoke. Using a spoon, scoop out and discard the fuzzy center. Fill artichoke with mashed potato crab mix. Place stuffed artichokes in baking dish. Bake for 20-25 minutes. About 10 minutes before removing from oven, top each stuffed artichoke with Parmesan cheese. Serve with lemon wedge.

Complete this Plate: Serve with 8 oz non-fat milk, 4-oz sirloin steak and watermelon.

Serves: 4
Fruits & Veggies per Serving
1.5 Cups
Nutrition Information per Serving:
Calories: 220
Total Fat: 4g
Saturated Fat: 2g
% of Calories from Fat: 16%
% Calories from Sat Fat: 9%
Protein: 14g
Carbohydrates: 35g
Cholesterol: 40mg
Dietary Fiber: 12g
Sodium: 370mg
Each serving provides: An excellent source of protein, fiber, vitamin C, vitamin B6, folate, vitamin B 12, potassium, phosphorus, magnesium and copper, and a good source of thiamin, riboflavin, niacin, pantothenic acid, calcium and zinc.
*Retail prices, Boulder, Colorado, and online, Spring 2015