Make Half Your Plate Fruits & Veggies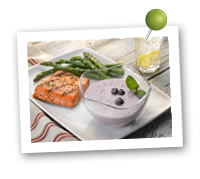 Refreshing and beautiful quick summer soup featuring a blend of fresh blueberries, apple juice and low-fat yogurt, and garnished with mint leaves.
Recipe Cost for 4 People: $12.15 ($3.04/serving)*
Preparation Time: 10 minutes

2 cups fresh blueberries (2 6-oz containers)
1 cup 100% apple juice
1 ½ cups plain low-fat yogurt
1 T honey
¼ tsp cinnamon
Fresh mint leaves for garnish

Rinse blueberries and set aside a few for garnishing; blend all ingredients in food processor or blender. Serve immediately. Garnish with mint leaves and blueberries, if desired.

Complete this Plate: Serve with grilled salmon fish filet (about 3-4 oz), asparagus and water w/lemon slice.

Serves: 4
Fruits & Veggies per Serving
0.75 Cups
Nutrition Information per Serving:
Calories: 140
Total Fat: 1.5g
Saturated Fat: 1g
% of Calories from Fat: 10%
% Calories from Sat Fat: 6%
Protein: 5g
Carbohydrates: 28g
Cholesterol: 5mg
Dietary Fiber: 2g
Sodium: 65mg
Each serving provides: An excellent source of iodine and a good source of protein, vitamin C, riboflavin, calcium, and phosphorus.
*Retail prices, Boulder, Colorado, and online, February 2014