Make Half Your Plate Fruits & Veggies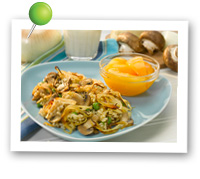 Caramelizing Vidalia® onions brings out complex and delicious flavors. Mushrooms add meatiness without significant calories. Add these to risotto made with brown rice – providing whole grains and a nutty flavor – and you have a deliciously healthful spring dish.
Recipe Cost for 4 People: $10.26 ($2.57/serving)*
Preparation Time: 1 hour

1 Vidalia® onion, thinly sliced vertically
2 tbsp canola oil, divided
1 lb cremini mushrooms, sliced
1 cup short-grain brown rice
¼ cup dry white wine
2 cups low-sodium vegetable or chicken broth
3 cups water
1½ cups frozen peas
¼ cup reduced-fat Parmesan cheese

Heat 1 tbsp canola oil in a 10-inch skillet over medium heat. (Do not use non-stick skillet.) Add Vidalia® onions and stir to coat with the oil. Stirring occasionally, let cook until brown (about 30 minutes). Remove Vidalia® onions from pan, and set aside. Wipe pan clean. Heat remaining olive oil in pan and brown mushrooms (about 15 minutes). While mushrooms and Vidalia® onions are browning, cook risotto as follows. Heat wine and rice in pot, stir until wine is absorbed. Mix broth and water together. Increase heat to medium-high; stir in 1 cup of water-broth mixture. Cook uncovered, stirring frequently, until liquid is absorbed. Continue stirring and add remaining water-broth mixture, 1 cup at a time, allowing each cup to be absorbed before adding another. Add peas to rice with last cup of liquid. Cook until rice is tender and mixture has a creamy consistency, approximately 1 hour. Gently stir in caramelized Vidalia® onions, mushrooms, and cheese. Let sit about five minutes and serve.

Complete this Healthy Plate: Serve with 8 oz non-fat milk and ¾ cup sliced canned peaches (or other canned, fresh or frozen fruit).
Serves: 4
Fruits & Veggies per Serving
2.25 Cups
Nutrition Information per Serving:
Calories: 380
Total Fat: 10g
Saturated Fat: 1.5g
% of Calories from Fat: 24%
% Calories from Sat Fat: 4%
Protein: 12g
Carbohydrates: 58g
Cholesterol: 5mg
Dietary Fiber: 6g
Sodium: 270mg
Each serving provides: An excellent source of fiber, protein, vitamin A, vitamin C, thiamin, niacin, riboflavin, pantothenic acid, potassium, copper, and phosphorus, and a good source of vitamin E, vitamin B6, folate, calcium, iron, and zinc.
*Retail prices, Boulder, Colorado, Winter 2012