Make Half Your Plate Fruits & Veggies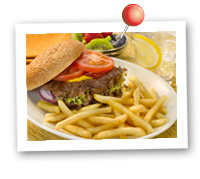 What a surprise? Burger and fries can make a healthy meal. Potatoes, including fries, provide fiber, potassium, and vitamin C, among other important nutrients, and today's frozen fries are lower in fat and sodium than in the past. Use lean ground beef and skip the cheese to lower saturated fat. Load up on the veggies and lighten up on condiments, which can be sources of extra fat and sodium.
Recipe Cost for 4 People: $11.11 ($2.78/serving)*
Preparation Time: 15 minutes

1 lb lean ground beef (5% fat), thawed
½ tsp garlic powder
½ tsp onion powder
½ tsp ground black pepper
2 medium tomatoes, sliced
1 medium red onion, sliced thinly
4 leaves red lettuce (or other leaf lettuce)
4 whole wheat hamburger buns
8 tsp ketchup
2 tsp mustard

In a medium bowl, mix ground beef with seasonings; shape into patties. Grill or pan fry. Bake shoestring French fries according to package instructions.


*Remember, color is not a reliable indicator of doneness. Use a food thermometer to ensure that the internal temperature of the burgers is 160°. For more information, visit: FightBac.org

Complete this Healthy Plate: Serve with 1 cup shoestring french fries (frozen and cooked according to package directions), about ¾ cup blueberry/red raspberry/kiwi medley (or other fresh, frozen, or canned fruit medley), and sparkling water with lemon slice/wedge.

Serves: 4
Fruits & Veggies per Serving
1.25 Cups
Nutrition Information per Serving:
Calories: 420
Total Fat: 12g
Saturated Fat: 3.5g
% of Calories from Fat: 26%
% Calories from Sat Fat: 8%
Protein: 30g
Carbohydrates: 50g
Cholesterol: 65mg
Dietary Fiber: 6g
Sodium: 670mg
Each serving provides: An excellent source of fiber, protein, riboflavin, vitamin B6, vitamin B12, potassium, iron, phosphorus, magnesium,
and zinc, and a good source of vitamin A, vitamin C, thiamin, niacin, folate, pantothenic acid, and copper.
*Retail prices, Boulder, Colorado, and online Fall 2011