Make Half Your Plate Fruits & Veggies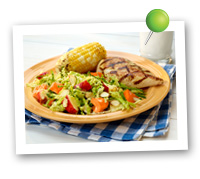 Apples and bell peppers liven up this cole slaw made with an easy vinegar mustard dressing. Add more color with red, orange or yellow bell peppers. Use your favorite sweet and crisp apple, such as Gala or Fuji.
Recipe Cost for 4 People: $5.36 ($1.34/serving)*
Preparation Time: 20 minutes

Dressing

1 Tbsp vegetable oil
¼ cup apple juice
2 Tbsp cider vinegar
2 tsp Dijon mustard
¼ tsp salt
Dash black pepper

Salad

½ small head green or Napa cabbage
1 orange or red bell pepper
1 Gala or Fuji apple
¼ cup sliced almonds

Whisk together dressing ingredients. Shred or thinly slice cabbage. Cut apple and pepper into small chunks. Place cabbage, apples, pepper and almonds in large bowl. Drizzle with dressing and toss.

Complete this Plate: Serve with grilled chicken, ½ corn on the cob and a glass of milk.

Serves: 4
Fruits & Veggies per Serving
2.5 Cups
Nutrition Information per Serving:
Calories: 150
Total Fat: 6g
Saturated Fat: 0g
% of Calories from Fat: 36%
% Calories from Sat Fat: 0%
Protein: 3g
Carbohydrates: 19g
Cholesterol: 0mg
Dietary Fiber: 6g
Sodium: 240mg
Each serving provides: An excellent source of fiber and vitamin C, and a good source of vitamin A, vitamin E and potassium.
*Retail prices, Boulder, Colorado, and online, Summer 2016.