Make Half Your Plate Fruits & Veggies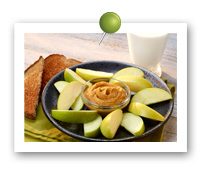 Breakfast is a snap with this simple dip, which can be made ahead of time and refrigerated. Enjoy with sliced Arctic® Golden or Arctic® Granny apple slices.
Recipe Cost for 4 People: $3.41 ($.85/serving)*
Preparation Time: 15 minutes
Dip
½ cup pumpkin puree (canned or from scratch)
⅓ cup almond butter (or crunchy peanut butter)
2 Tbsp maple syrup
⅛ tsp cinnamon
24 Arctic® Golden apple slices (or 2 whole Artic® Golden apples, sliced)
24 Arctic® Granny apple slices (or 2 whole Artic® Granny apples, sliced)
Mix together dip ingredients. Serve with apple slices.

Complete this Healthy Plate: Add a glass of skim milk and whole grain toast.
Serves: 4
Fruits & Veggies per Serving
1.5 Cups
Nutrition Info
Calories: 260
Total Fat: 12g
Saturated Fat: 1.5g
% of Calories from Fat: 42%
% Calories from Sat Fat: 5%
Protein: 5g
Carbohydrates: 38g
Cholesterol: 0mg
Dietary Fiber: 8g
Sodium: 55mg
An excellent source of fiber, vitamin A, vitamin E and riboflavin and a good source of protein, vitamin C, potassium, calcium, phosphorus, magnesium and copper.
*Retail prices, Boulder, Colorado, and online, Summer 2016.