Make Half Your Plate Fruits & Veggies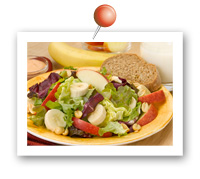 Enjoy a fresh, flavorful change of pace with a surprising mix of lettuce, apples, and bananas, topped with a paprika dressing. Perfect for the busy holidays.
Recipe Cost for 4 People: $6.50 ($1.63/serving)*
Preparation Time: 15 minutes
Dressing

1/3 cup plain low-fat yogurt
2 tbsp reduced-fat mayonnaise
1 tbsp honey
2 tsp paprika

Salad

2 packages Fresh Express 5-Lettuce Mix™ (12 oz total)
2 ripe Chiquita® bananas
1 14-oz package Chiquita® Juicy Red Apple Bites
¾ cup dry roasted peanuts

Whisk together dressing ingredients. Slice bananas. In a large salad bowl, toss mixed greens, banana and apple slices, peanuts, and dressing.

Complete this Healthy Plate: Serve with 8 oz glass of non-fat milk and one slice of rustic whole-grain bread.
Serves: 4
Fruits & Veggies per Serving
2¼ Cups
Nutrition Information per Serving:
Calories: 330
Total Fat: 17g
Saturated Fat: 2.5g
% of Calories from Fat: 46%
% Calories from Sat Fat: 7%
Protein: 10g
Carbohydrates: 42g
Cholesterol: 5mg
Dietary Fiber: 8g
Sodium: 300mg
Each serving provides: An excellent source of fiber, vitamin A, vitamin C, riboflavin, B6, folate, potassium, phosphorus, magnesium, and copper, and a good source of protein, vitamin E, thiamin, niacin, biotin, iron, iodine, and copper.
Note: analysis reflects packaged Chiquita Apple Bites, which have higher vitamin C & calcium than unpackaged apples.
*Retail prices, Boulder, Colorado, Fall 2011