Less than a month ago, I was trying to figure out what to do with the abundance of summer squash I had on hand.  Now that we've moved into the fall season, the summer squash plants are either done producing or pretty close to it.  And, while I'll miss having fresh summer squash readily available, this also means the winter squash varieties are now appearing in supermarkets everywhere.
Unlike their summer cousins, winter squash tends to have a heartier texture, making them ideal for roasting or using in cooler weather dishes like casseroles or stews. Winter squash are nutrition goldmines as they provide a good source of fiber and vitamins A and C.  Here are a few varieties you can find at your local supermarket or farmer's market.  Click on the link and learn how to select and store each particular variety: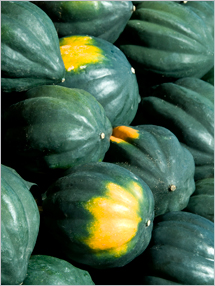 I personally enjoy winter squash by simply roasting them and allowing their delicate flavors to come through.  Sometimes I'll halve or quarter an acorn squash, cover it and bake in the oven until almost done.  Then I'll put a little butter and some salt, pepper and a little cinnamon on top.  I'll uncover and allow it to finish cooking so the top gets a little browned.  It's very simple and really delicious–the perfect side for fall!  Pinterest has some more involved recipes using winter squash that are quite appealing and would be perfect for a chilly evening.  Roasted Pear and Delicata Squash Soup w/Parmesan Croutons is a great way to start any dinner.  Do you enjoy pasta?  How about Stuffed Shells w/Butternut Squash, Spinach and Ricotta or Spaghetti w/Creamy Butternut Leek Parmesan Sauce?  Sounds delicious!  Here's a sweet and savory side dish idea–Apple Stuffed Acorn Squash.
These are just a few ideas to get you started.  You'll find that winter squash is readily available now through the next few months in your local supermarket at some very budget-friendly prices so be sure to take advantage of them!
See all posts