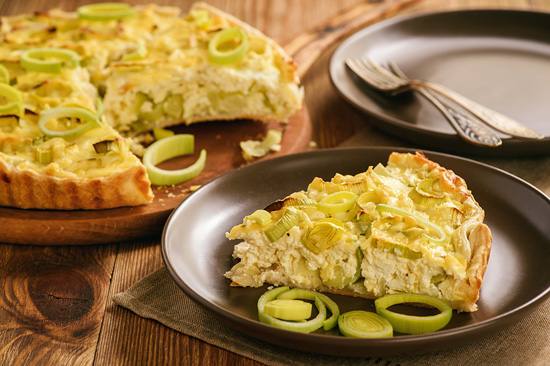 Roast 'em. Clean and halve a couple of leeks then add them to your next pot roast or pan of roasted vegetables. Or for a great side dish, drizzle the halves with a little olive oil … roast … and enjoy!



The Main Dish. Pasta w/ Spinach and Smoked Sausage is a delicious way to
try leeks for the first time!



Season Beans. Add a delicious and unique flavor while cooking your beans by tossing in some sliced leeks.
.

Add to Salad. Enjoy raw leeks as part of your favorite green salad.



Serve Cold. Use leeks to make the French soup vichyssoise, a potato and leek soup that's traditionally served cold.



A New Quiche. Try a leek and Roquefort quiche. This combination results in a flavorful dish with delectable consistency. Toss 5 leeks and 4 oz. of Roquefort into your basic quiche recipe and enjoy! [For less fat and calories, use egg whites only and less cheese.]



Garnish! Dice or thinly slice leeks then sprinkle these onto a salad or soup for an attractive (and nutritious!) garnish.



An Elegant Side. Roasted Herbed Artichokes with Leeks is a great way to serve an elegant side dish that's easy to prepare.



Mash or Layer. Add leeks to your mashed or scalloped potatoes. To mash: dice the white part of 2 leeks and add to the potatoes as they begin to boil. To scallop: layer them into your favorite recipe.


Soups & Stews. For a slightly different flavor, add leeks to soups or stews at the same cooking stage as you would onions.



See Videos About Leeks
See Nutrition Information for Leeks
Fruit & Vegetable Nutrition Database
Key Nutrients Found in Fruits & Vegetables
Dietary Guidelines for Americans
Recipes: Fruit & Vegetable Recipe Database