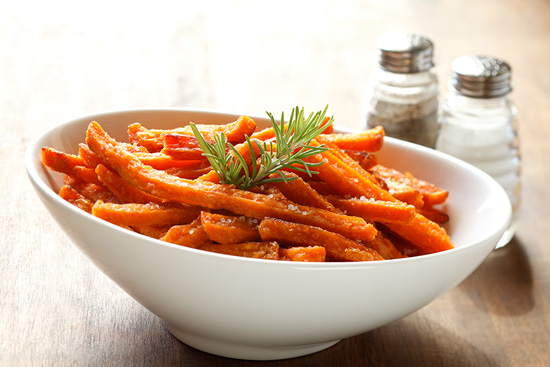 A Crispy, Healthy Snack. Try munching on sweet potato chips. Thinly slice a large sweet potato and brush lightly with olive oil. Bake at 350 degrees for 15 minutes or until lightly browned and crisp.



Just Drizzle and Eat! Dice cooked, peeled sweet potatoes and drizzle with maple syrup for a side dish that's sure to satisfy any sweet tooth.



Add a Twist to Your Sandwiches. Cut thin slices of cooked sweet potatoes and add to your favorite sandwich or wrap instead of tomatoes.



Sweet Potato Pancakes! Breakfast is sure to be a hit when you make sweet potato pancakes. Recipe Sweet Potato Pancakes with Apple-Walnut Topping



The New Potato Salad. Substitute sweet potatoes for regular spuds in your favorite potato salad recipe.



Grill 'em! Slice sweet potatoes into thick ½ inch rounds and grill until lightly browned.
Drizzle with lime juice.



Sweet Potato Fries. Sweet potato fries make a delicious treat. Quarter sweet potatoes and drizzle with olive oil. Bake at 400 degrees for 40-60 minutes. For a spicy twist, add a dash of cayenne pepper.



Top Your Salad. Sweet potatoes make sweet salad toppings. Combine diced sweet potatoes, pineapple tidbits, apples, celery, and cashews. Serve over salad greens. Recipe Gingered Sweet Potato-Apple Salad



Mash 'em! Steam peeled sweet-potato chunks for about 10 minutes until tender, and mash with a dash of orange juice.


Bake, Roast, or Steam 'em! Pick a cooking method and enjoy! Use whole, unpeeled sweet potatoes as a side dish to any meal.



See Videos About Sweet Potatoes
See Nutrition Information for Sweet Potato
Fruit & Veggie Database
Key Nutrients in Fruits & Veggies
Dietary Guidelines for Americans
Recipes