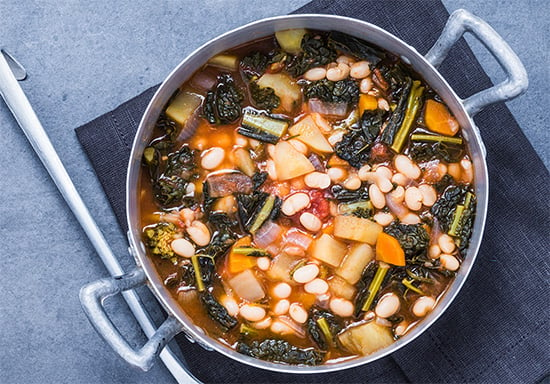 With Your Favorite Noodles – soba, fettuccine or rice noodles. Add chopped kale when pasta is about 5 minutes from being done. Season with a small amount of sesame oil, sesame seeds and salt.



Quickie Kale Salad. Toss canned sliced beets with cooked fresh or frozen kale, 1-2 chopped scallions, and a grated carrot. Top with low fat balsamic vinaigrette.



Sweet and Irresistable. Sweeten your kale with this delicious recipe: Kale and Raisins



One-Pot Meal. Braise kale in chicken or vegetable stock. Add garlic that has been sauteed in olive oil before adding stock and kale. Add cooked or canned white or cannelloni beans to make a delicious one-pot meal, if desired.



Steamed and Tangy. Steam kale and season with lemon juice, olive oil, salt and pepper.



Stir-Fry. Add chopped kale to a stir-fry.



A Tasty Substitute. Substitute kale in recipes that use spinach or collard greens.



Meat and Potatoes … PLUS! Cook sliced potatoes until almost tender. Add chopped kale (tough stems removed) and sliced low-fat turkey sausage. Cook until kale is tender and sausage is cooked through.



Veggie Saute. Saute diced potato, acorn squash, mushrooms and onion in a small amount of olive oil until tender. Add chopped kale (tough stems removed) and cook until wilted. Season with sage.


Soups. Add chopped fresh or frozen kale to vegetable or bean soups. Recipe: Beans and Greens soup
See Nutrition Information for Kale
Fruit & Veggie Database
Key Nutrients in Fruits & Veggies
Dietary Guidelines for Americans
Fruit & Vegetable Recipe Search