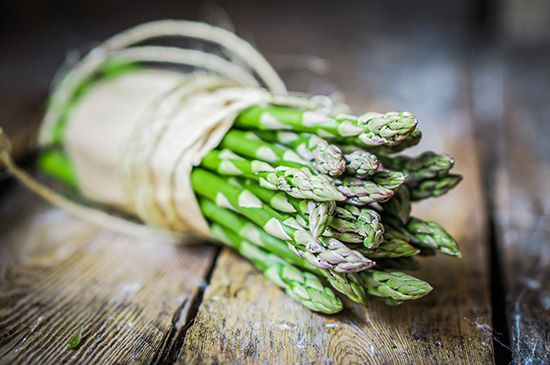 Egg-cellent Asparagus. Add steamed pieces of asparagus to an egg white and feta cheese omelet. Finish with halved cherry tomatoes.



Grilled. Place asparagus spears on a medium-high heat grill coated with olive oil spray and cook for about 5-8 minutes until tender, turning occasionally.



Cheese, Crackers & Asparagus. Spread a soft cheese (goat cheese, brie, etc.) on whole wheat crackers and top with a crisp asparagus head. Serve as an appetizer or an afternoon snack.



Hearty Soup. Purée cooked leeks, onions, russet potatoes, asparagus, low-sodium chicken broth, lemon juice, and low-fat sour cream until smooth. Garnish soup with asparagus tips. Recipe Asparagus Soup



Drizzle a Little Dressing. Dress up your traditional steamed or boiled asparagus with a mustard vinaigrette dressing. Recipe Asparagus with Mustard Vinaigrette



Steamed. Place fresh or frozen asparagus in a microwave-safe container or in a sauté pan with a small amount of water, low-sodium seasonings, and garlic. Enjoy as a side dish or snack.



Stock Up. Save the woody ends of asparagus for making asparagus soup later. Simply place in a zip lock bag and freeze until ready to use.



Easy Appetizer. Serve asparagus spears with a vibrant dipping sauce for an easy appetizer. Using nonfat Greek yogurt as a base, add in lemon juice, minced garlic, roasted red bell pepper … be creative and get dipping!



Veggie Fettuccine. Toss cooked asparagus and bell pepper with cooked fettuccine. Finish with lemon juice and cheese. Recipe Fettuccine with Fresh Vegetables


Shake & Bake! Place fresh asparagus in a plastic zip lock bag, drizzle with olive oil, and add salt, pepper and other seasonings. Shake until asparagus is coated, then bake in oven at 400°F until crisp!



See Videos About Asparagus
See Nutrition Information for Asparagus
Fruit & Veggie Database
Key Nutrients in Fruits & Veggies
Dietary Guidelines for Americans
Fruit & Vegetable Recipe Search