Stone fruits refer to those that contain a stone (or sometime referred to as a "pit"), which can be removed with ease (Freestone) or without (Clingstone) from the flesh of the fruit.  The most popular stone fruits are usually enjoyed during the summer season and include peaches, plums and nectarines.  In many parts of the country these juicy fruits are coming into harvest right now and plenty of orchards host "pick-your-own" outings.  Even if you don't want to go out and pick your own peaches or plums, local farmer's markets and even your neighborhood grocery store has these in-season fruits on hand right now at some terrific prices.
Peaches, plums and nectarines are a healthy addition to your daily diet.  They are a good source of Vitamins A and C and are naturally fat, cholesterol and sodium free.  In-season fruit is delicious to snack on all by itself, but I found a few recipes that also take advantage of their delicious flavor.
Here is a true summer recipe, but using peaches differently than you normally would.  Grilled Halibut with Peach and Pepper Salsa combines the perfect blend of sweet and savory flavors that work well with this mild tasting fish.  Habanero pepper gives the dish an extra "kick."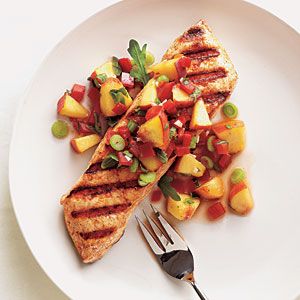 Grilled Cinnamon Plums with Sweetened Mascarpone, Vanilla Honey & Toasted Pine Nuts is a new and elegant twist on dessert.  Plus, I like the idea of getting that sweet "fix" without adding too many added calories and fat.  This recipe keeps it really simple and relies on its flavor from the fruit and spices.  The presentation is also perfect if you're having guests.
Obviously, there are plenty of other recipes you can explore with fresh stone fruits like cobblers, pies, jams, not to mention fresh peach ice cream or peach tea!  I have a bowl of nectarines and peaches sitting on my counter for snacking right now–I hope you'll do the same while these fruits are at their peak of flavor through the next month or so.
See all posts