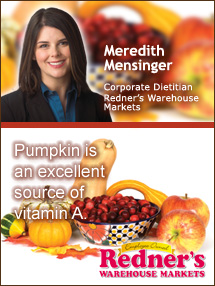 The holidays are a great time of year to enjoy family, friends, and of course food. Sure the turkey, stuffing, and decadent desserts may not be easy to pass up but it's important to balance your meals with the colorful fruits and vegetables of the holiday season.

Not sure how to include those tasty seasonal fruits and veggies in your holiday meals? Check this out …

Cranberries
The deep, luscious red color of the cranberry makes a fine addition to any holiday dish. Known for their high level of antioxidants and their role in urinary tract health, the versatility of this fruit is endless.
Combine a handful of cranberries to your traditional stuffing to add color and flavor.
Toss dried cranberries on a salad to turn up the antioxidant power.
Bake delicious cranberry nut bread.
Make your own fresh cranberry sauce.
Pumpkin
We pick them, carve them, and decorate with them but sometimes we forget how nutritious it is to eat them! Pumpkin is an excellent source of vitamin A which plays an important role in vision and immune function.
Stir up a pumpkin soup or chili.
Use pumpkin puree in low-fat baked goods.
Create a great breakfast with pumpkin pancakes.
Bake the perfect pumpkin pie!
Apples
With 2,500 varieties grown in the United States, you are guaranteed to find an apple that's perfect for you! Apples are high in dietary fiber and contain special compounds such as pectin and quercetin that may be beneficial in reducing the risk of heart disease, cancer, and many other diseases.
Toss them on a salad to add some crunch and color.
Combine apples in your favorite stir-fry.
Top your morning oatmeal with apples and cinnamon.
Eat them right off the tree! (Don't forget to wash them first!)
Meredith Mensinger RD, LDN
Redner's Warehouse Markets
Fruit & Vegetable Recipes
Video Center: Selection, Storage, and Preparation of Fruits & Vegetables.