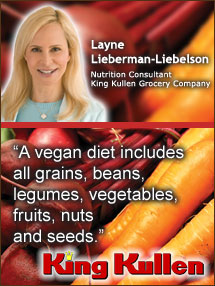 November is Vegan Month and with Thanksgiving approaching why not try new recipes with seasonal fruits and veggies to celebrate the abundance of the fall harvest!

A vegan diet includes all grains, beans, legumes, vegetables, fruits, nuts and seeds. Many vegan versions of popular foods are available in the grocery store. For example you can easily find soy hot dogs, veggie burgers, soy yogurt, veggie cheese and more.

Vegans do not eat meat, eggs, dairy products, or processed foods containing these or other animal-derived ingredients like gelatin. Some vegans also avoid eating foods that are made using animal products. There is debate as to whether honey fits into a vegan diet (because it is produced by the bee).

Apple Whole-Wheat Stuffing
Directions:
Bake cubes of bread at 350° for 15 minutes until dried and brown. Place vegetable broth, onion, celery, apples, sage, thyme and pepper in a saucepot with a lid and simmer for 10 minutes until apples are soft. Toss with the dried bread cubes, bake at 325°, covered for 15-20 minutes. Amount of liquid can be adjusted to your preference.
Nutrition Facts:
120 calories
1.5g fat
418mg sodium
24g carbohudrate
3g fiber
12g sugar
5g protein
Roasted Carrots, Beets and Parsnips
Directions:
Preheat oven to 425 degrees. Toss vegetables with oil, salt and herbs. Arrange vegetables in a large roasting pan (or use two). Do not overcrowd vegetables. Roast until soft on the inside and browned on the outside, 20-30 minutes. Turn vegetables halfway through cooking. Serve warm or at room temperature.
Per ½ cup serving:
75 calories
3g fat
0mg cholesterol
130mg sodium
3g dietary fiber
11g total carbohydrate
1g protein.
Layne Lieberman-Liebelson, RD, MS, CDN
King Kullen Grocery Company