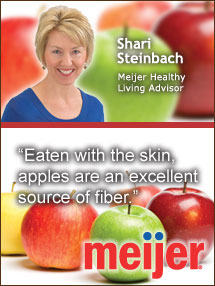 Fall is here and in Michigan, where I live, the apples are being picked and made into many healthy autumn recipes.
The scoop: The apple is one of Nature's great nutritional gifts. Eaten with the skin, apples are an excellent source of fiber. They're also low in calories, and are fat-, cholesterol- and sodium-free.
Look for: Choose apples that are colorful and firm to the touch, with smooth skins and no bruising.
To store: Store apples in a plastic bag in the refrigerator for as long as two weeks. Wash apples before eating and to prevent sliced apples from turning brown, dip them in a mixture of water and lemon juice.
Chicken-Apple Waldorf Salad
Serves 4
Directions:
Combine all ingredients in large mixing bowl; mix well.
Per serving:
290 calories
13g carbohydrate
29g protein
2g fiber
12g fat
82mg cholesterol
274mg sodium
Meijer Healthy Living Advisor