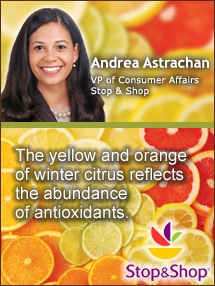 If you haven't made a New Year's resolution yet, I have a suggestion for one that will help keep you healthy all year. Resolve to eat a variety of colors every day! A mix of colorful fruits and vegetables provide the wide range of vitamins, minerals, fiber and phytochemicals your body uses to stay healthy and energetic and may help you to maintain a healthy weight.
So, start 2010 with winter citrus! The bright yellow and orange of winter citrus is a reflection of the abundance of antioxidants such as vitamin C, as well as carotenoids and bioflavanoids, two classes of phytochemicals that scientists are studying for their health-promoting and disease preventing potential. Including yellow/orange in your low-fat diet may help maintain a healthy immune system and a lower risk of some cancers.
Here is an easy way to begin:
Start your day with half a grapefruit
Add orange sections to salad at lunch
For dinner brush poultry or fish with lemon or orange juice, then bake, broil, grill or microwave!
And an easy-to-peel Clementine is nature's convenient snack food!
Make a New Year's resolution to eat more fruits & veggies because more matters!
Vice President of Consumer Affairs
Stop & Shop Supermarket Company/Giant Food
Fruit & Vegetable Recipes
Video Center: Selection, Storage, and Preparation of Fruits & Vegetables