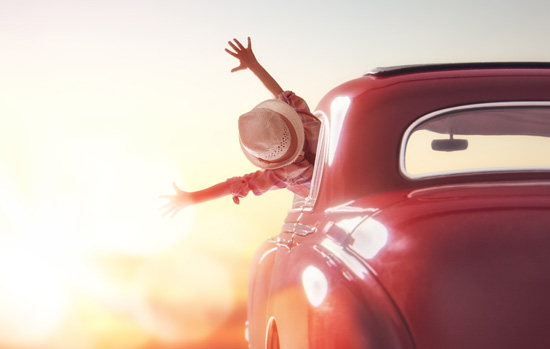 Ah, the family road trip! We've started south, to Florida. Car traveling is fun with kids, stopping to see the sights and vistas of this great country like Mammoth Cave, and traveling Natchez Trace. The next vision was something I hadn't planned for: My husband and son walking out of a gas station carrying soda, bags of chips, and those cheese-stuffed-pretzel combination "things." It doesn't end there, that was just a snack. Now it's time to stop for lunch at one of the myriad fast food restaurants lining the interstate. I've taken a misstep and didn't plan appropriately; I allowed a measure of confidence in my family to make proper food choices.

How do we avoid the pitfalls of fast food, gas station snacks, and vending machines? As a dietitian, I have accumulated a wide variety of snack choices to fill the void. My portable snack ideas will take the guesswork out of what to bring on your next road trip, a day at the beach, or a trip to the zoo.

We don't have much room in the cooler, so let's make some good choices!

3 Key Characteristics of a Travel Snack
It's able to be stored in a cooler or the car with little risk of spoilage.
It's easy to consume with little preparation, cleanup, or utensils.
It includes a fruit and veggie, protein, and minimal but healthful fat.
Fruits and Vegetables, Prepackaged
Before your trip, cut fruits (like melon) and vegetables (like carrots and celery) then pack in cooler-ready containers. Blanch vegetables (like green beans and carrots) and then shock in an ice water bath for a vibrant color and better texture. For a quicker option, most supermarkets have pre-cut, and packaged fruits and vegetables that travel well.

Quick Shopping List for Portable Healthy Snacks

Don't be a Drowsy Driver!
Driving can be tiring, and metabolizing carbohydrates will make the driver sleepy. Instead of sugar or carbohydrate, choose vegetable and protein choices to stay awake and alert. Give the kids more carbs, because drowsy can be a good thing for them!

Trail mix and nuts are great choices for increasing a sense of fullness. Hard cheeses travel well, but keep cheese serving sizes to 1 oz. for a snack. Include a piece of fruit and as many vegetables as you like. Turkey jerky or beef jerky have changed to become a little healthier. Although these aren't a daily snack choice for this dietitian, they do travel well! Check out this Quick Shopping List for Portable Healthy Snacks for some protein choices to help keep you or your driver awake and alert.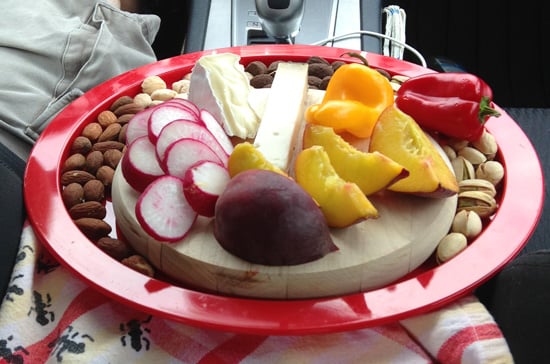 Stay Hydrated
Hydration is another important factor for keeping alert during that road trip. In addition to carbohydrate, dehydration can also cause drowsiness. Take along refillable filtered water bottles to replace sugary beverages. Cola's with added sugar and caffeine will increase bathroom stops, and drowsiness. Include 100% juices, either straight or diluted.

Snack Menu
Here are some of my snack menus from trips in the Chicago area. I hope they'll help tie all snack components together, with great options for kids and adults.

Trip to the Zoo
Carrot Pecan Energy Bites
12 Rainier Cherries
Sargento Cheese Stick

Air and Water Show
Honey Almond Flax Granola Bar
Fruit Kabob
Stoneyfield Kid's Yogurt

Mammoth Cave
Grapes (17)
Stuffed Mini Sweet Peppers with Chicken Salad
Whole Grain Crackers

Snack at the Dunes
Whole Grain Crackers
Dried Apricot, Dried Cherries
Mann's Sugar Snap Peas
Marcona Almonds
Garden Walk
Peas and Ham Mini Corn Muffin
Sliced, Fresh Peaches
Niçoise Salad

Breakfast on Rt. 66
Belvita Breakfast Biscuit
Apple Slices with Nut Butter
Yogurt, 4 oz.

Natchez Trace
2 Mandarin or Cutie Oranges
Grilled Baby Artichokes
Manchego Cheese, 1 oz.
Snack Recipes for Your Next Outing
Carrot Pecan Energy Bites
(makes 60, 1 tablespoon bites)

Ingredients (makes 60, 1 tablespoon bites)

1 ½ cups old fashioned oats
½ cup pecans, chopped
1 Tbsp. flax seed, ground
¾ cup almond butter
3 Tbsp. agave nectar or honey
¼ tsp. ground cinnamon
¾ cup carrot, grated and packed
¾ cup tart cherries, dried
½ cup pecans, ground

Preparation

In a food processor, blend together the oats, pecans, cherries, grated carrot, and flax.
Pulse the almond butter, agave nectar and cinnamon until well combined.
Using a scoop or tablespoon, roll the mixture into bite-sized balls. Spray hands with cooking spray to stop the mixture from sticking.
Role balls in ground pecans, then place on a baking sheet, cover, and refrigerate for 1 hour.
Serve or store remaining in airtight container in the refrigerator for up to 1 week, or freeze.

Nutrition Facts: 50 calories, Total Fat 3.4g, saturated fat 0g, monounsaturated fat 2g, polyunsaturated fat 1g, sodium 3mg, carbohydrate 4g, fiber 1g, sugar 2g, protein 1g
Peas and Ham Mini Corn Muffin
(makes 36 mini muffins)

Ingredients

1 ½ cup whole wheat flour
1 ½ cup corn meal
¼ cup sugar
2 tsp. baking powder
1 cup skim milk
¼ cup canola oil
1 egg, beaten
2/3 cup frozen peas, partially cooked
8 oz. Canadian bacon, small dice

Preparation

Preheat oven to 400°F and paper the muffin tins.
Combine dry ingredients. Form a well in the center and stir milk, oil, and eggs. Don't over mix.
Fold in peas and Canadian bacon.
Scoop batter into mini muffin tins and bake for 15-20 minutes or until golden brown.

Nutrition facts: 51 calories, total fat 2g, saturated fat 0g, monounsaturated fat 1g, cholesterol 7mg, sodium 117mg, protein 2g
Niçoise Salad
Makes 4 to 6 servings



Dressing

1 clove garlic
1 Tbsp. Dijon mustard
1/3 cup olive oil
1 shallot, minced
2 Tbsp. fresh lemon juice
Salt and pepper to taste

Salad

1 lb. small new potatoes, boiled until tender
6 oz. yellow baby beats, boiled until tender, peeled
6 oz. red baby beats, boiled until tender, peeled
8 oz. haricot verts, blanched
12 oz. cherry or grape tomatoes
½ cup black niçoise olives (or your preference)
8 small radishes, trimmed and thinly sliced
4 hard-boiled eggs, halved lengthwise
3 (4oz.) cans high-quality tuna packed in water, drained
1 small cucumber, thinly sliced
½ cup loosely baked basil leaves, to garnish

Preparation

Make the dressing: Mince garlic on a cutting board and sprinkle with salt. Using a knife, scrape the garlic and salt back and forth to form a smooth paste. Transfer paste to a bowl and whisk in oil, juice, mustard, shallot, and salt and pepper, then set aside.
Make the salad: Arrange all ingredients in separate rows on a large serving platter. Drizzle dressing over all ingredients, season with salt and pepper, and garnish with basil and scallions just before serving.

Nutrition facts: 357 calories, 19g total fat, 4g saturated fat, 3g monounsaturated fat, 165mg cholesterol, 467mg sodium, 26g carbohydrate, 8g sugar, 5g fiber, 22g protein.

Adapted from Saveur
Peggy Balboa, RD, LDN
Dietitian
Insider's Viewpoint Archive
Fruit & Vegetable Recipes
Video Center: Selection, Storage, and Preparation of Fruits & Vegetables.