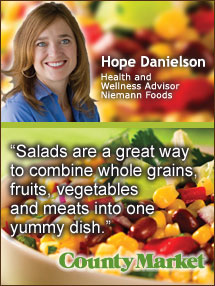 Nothing quite says summer like fresh and delicious salads. Salads are a great way to combine whole grains, fruits, vegetables and meats into one yummy dish. You can mix and match with different ingredients so salads are almost foolproof. Beans are a great substitution for meat so be sure to try all different varieties.

Here is one of my go to salad recipes in the summer. It combines an assortment of vegetables so it's a great way to meet your daily intake for the day. The barley makes it more filling and adds the great benefits of whole grains. Feel free to substitute your favorite vegetables. Eating healthy really can be fun.
Confetti Salad
Ingredients:
1 Cup Barley, cooked
1 Cup Frozen corn, thawed
1 Can Black beans, drained and rinsed
½ Cup Red onion, chopped
1 large Tomato, chopped
1 large Cucumber, chopped
1 large Red pepper, chopped
1 Garlic clove, minced
1 Small jalapeno pepper, minced
1 Tbsp Fresh cilantro, diced
Dressing:
½ Cup Honey, warmed
¼ Cup Balsamic vinegar
1 Tbsp Lime juice
Salt to taste
Directions:
Mix salads ingredients together in large bowl
Mix dressing ingredients together in blender
Pour dressing over salad and serve.
Health and Wellness Advisor