Make Half Your Plate Fruits & Veggies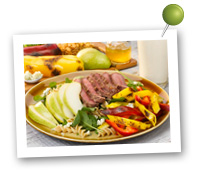 Grill whole bell peppers along with steak, then add Bartlett pear slices, and you have the foundations for a delicious and colorful Italian-influenced salad.
Recipe Cost for 4 People: $11.68 ($2.92/serving)*
Preparation Time: 30 minutes

Vinaigrette

1 tbsp olive oil
3 tbsp distilled vinegar
¼ cup white grape juice or apple juice
¼ tsp salt
1 tbsp Italian herb blend, like Mrs. Dash

Meal

2 cups (4 oz) whole wheat rotini pasta, uncooked
1 brand yellow bell pepper
1 red bell pepper
½ tsp olive oil
12 oz boneless choice beef top sirloin
2 USA Bartlett pears
3 cups arugula
¼ cup crumbled Gorgonzola cheese

In a small bowl, whisk olive oil, vinegar, grape juice, salt and herb blend. Boil water and cook pasta according to package instructions. Drain pasta, rinse in cool water. Heat grill, rub peppers with ½ tsp olive oil. Grill whole peppers, turning as needed, until skin begins to brown and bubble. At the same time, grill beef sirloin to desired doneness, turning once. Remove from grill, let cool slightly. Slice peppers into strips, discarding seeds and stem. Cut sirloin across the grain into thin slices. Slice pears into thin wedges. Toss arugula and pasta in large bowl. To serve, evenly divide pasta-arugula on four plates, arrange beef, peppers and pears on top, drizzle with vinaigrette and sprinkle with crumbled Gorgonzola cheese.

Complete this Healthy Plate: Serve with 8 oz non-fat milk.
Serves: 4
Fruits & Veggies per Serving
1.5 Cups
Nutrition Information per Serving:
Calories: 390
Total Fat: 12g
Saturated Fat: 4g
% of Calories from Fat: 28%
% Calories from Sat Fat: 9%
Protein: 27g
Carbohydrates: 44g
Cholesterol: 65mg
Dietary Fiber: 7g
Sodium: 330mg
Each serving provides: An excellent source of protein, fiber, potassium, vitamin A, vitamin C, niacin, vitamin B6, vitamin B12 and zinc, and a good source of calcium, iron, riboflavin, folate, phosphorus, magnesium and copper.
*Retail prices, Boulder, Colorado, September 2011