August is Kids Eat Right Month.  I think we all want our kids to eat right, it's a great concept, but with peer pressure and picky eaters, it's easier said than done.  While it can be challenging (trust me, I've been there!), you can be successful in getting your children to consume and actually enjoy a healthy diet.  It just takes a little patience and creativity.
The best way to get kids liking healthy food is to involve them in what they're eating.  Start letting them help pick out foods in the grocery store and let them help prepare foods in the kitchen.  You can even start a garden–children will be much more likely to eat what they've grown themselves.  Fruits & Veggies–More Matters are the experts on everything related to kid friendly healthy eating.  Visit their special section on healthy kids and find all kinds of useful info as well as games, coloring, and activity pages all about healthy eating.  They've even got their Top 10 Ways To Get Kids Involved In Healthy Cooking and Shopping.
One of the most important things you can do to encourage your child to eat healthy is by creating tasty meals that are still nutritious.  Fruits & Veggies–More Matters has a number of recipes that meet this criteria.  Pizza is a hit with almost every kid, and Technicolor Vegetable Pizza incorporates great pizza flavor with the nutrition of veggies.  You'll use sliced Italian bread as a base and sprinkle with grated Parmesan cheese or mozzarella cheese if you prefer.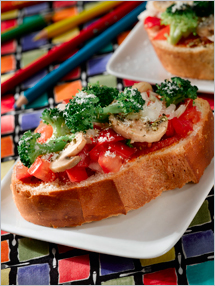 Corner Kick Pita Pocket is the perfect lunch, combining lean ground beef with fat-free ranch salad dressing, salsa, and topping it with shredded carrots, sliced cucumber, and spinach leaves.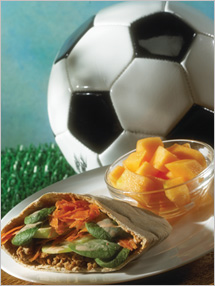 Finding a side veggie dish can be difficult, which is why you'll love this recipe for Crazy, Curly Broccoli Bake.  Kids will love the corkscrew pasta and the creamy sauce.  You'll love the serving of veggies they're getting with each serving.  Ingredients include broccoli, pasta, low-fat cream of broccoli soup, skim milk, bread crumbs, and low-salt seasoning blend.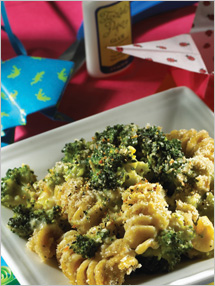 Frosty Orangeliciousness makes a great dessert or after school sweet treat.  You'll combine fat-free vanilla ice cream, orange juice, and an orange, peeled and frozen in a blender.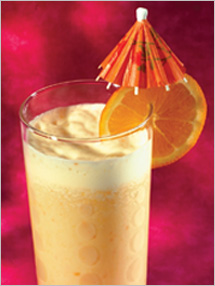 I hope these ideas make it easier to get your child eating healthy.  I'll return next Monday with some tips for having a better feast when you're at the beach.
See all posts