Make Half Your Plate Fruits & Veggies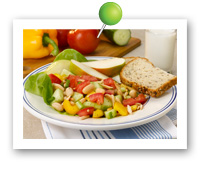 Thanks to greenhouse-grown vegetables, such as tomatoes, bell peppers and cucumbers, you can enjoy garden-like freshness year-round. Chop these veggies and mix with cannellini (white beans) and almonds, then mix with vinaigrette for a simple, delicious, and satisfying salad.
Recipe Cost for 4 People: $8.24 ($2.06/serving)*
Preparation Time: 45 minutes

Dressing

1 tbsp olive oil
2 tsp white wine vinegar
½ cup apple juice
1 tbsp tomato basil garlic seasoning blend, no-salt (such as Mrs. Dash)

Bean Salad

½ cup almond slivers
2 greenhouse-grown, on-the-vine tomatoes, coarsely chopped
½ greenhouse-grown yellow bell pepper, chopped
½ greenhouse-grown cucumber, peeled, chopped
3 green onions, sliced
2 14½ oz cans cannellini (white) beans, no-salt-added, drained, and rinsed
Large lettuce leaves (Boston, Bibb, or romaine)

Whisk together dressing ingredients in a small bowl. In a small sauté pan, toast almond slivers until golden. Remove from pan and let cool. In a medium bowl, toss dressing with all ingredients except lettuce. Refrigerate until ready to serve. To serve, place lettuce leaves on individual plates; top with salad.

Complete this Healthy Plate: Serve with an 8 oz glass of non-fat milk, 1 slice of whole grain bread, and pear slices (about ½ pear).
Serves: 4
Fruits & Veggies per Serving
1 Cup
Nutrition Information per Serving:
Calories: 250
Total Fat: 9g
Saturated Fat: 1g
% of Calories from Fat: 32%
% Calories from Sat Fat: 4%
Protein: 11g
Carbohydrates: 33g
Cholesterol: 0mg
Dietary Fiber: 9g
Sodium: 60mg
MyPlate Contributions
Vegetables
Fruit
Grain
Protein
Dairy
1 cup
0 cup
0 oz
3 oz
0 cup
Each serving provides: An excellent source of protein, fiber, vitamin A, vitamin C, thiamin, potassium, phosphorus, and magnesium, and a good source of vitamin E, niacin, folate, calcium, iron, zinc, and iodine.
*Retail prices, Boulder, Colorado, and online, September 2012