Push your laptop a few inches back and make room for the important stuff – the food! Mandatory or not, the virtual social hour is the way to catch-up and share some good cheer with co-workers or family this season. California Prunes pair beautifully with olives, prosciutto, nuts, cheese, and practically anything else you want to add to your fun and festive cheeseboard.
Try this version of The Ultimate Cheese Board with California Prunes for a uniquely delicious (with a hint of nutritious!) start to your evening.
This cheese board is all about abundance. The tangy mostarda, deeply flavored whole California Prunes, and peppercorn black tea syrup all complement the salty, sweet, earthy, and savory elements on the board. See how Kat Turner, Chef Partner of Highly Likely Café in Los Angeles puts it all together.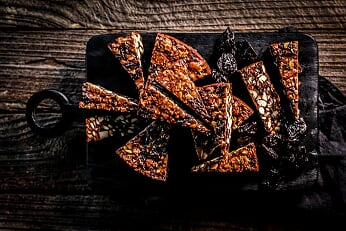 This traditional holiday treat made with California Prunes makes a great addition to any grazing board, and it pairs well with wine. Or, serve at the end of a meal with coffee, cappuccino or port. Since this homemade panforte is naturally gluten-free, it's something everyone can enjoy!