Andrew Dole, RDN, CEC
Everyday Chef, Fruits & Veggies—More Matters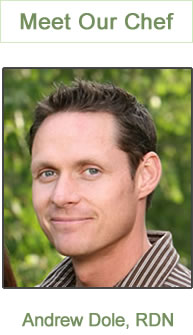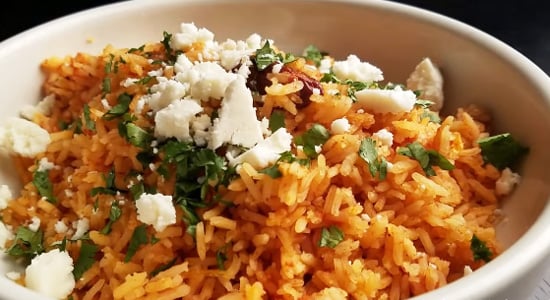 I have a not very secret love affair with jasmine rice which means it shows up in recipes where you wouldn't normally think a distinctly flavored rice would work. This toasted Latin rice recipe is a perfect example. The smoky, spicy elements from chipotle in the adobo sauce combined with the subtly sweet tomato juice allows the toasted jasmine in this dish to dance in the background, teasing your taste buds.

Traditionally, a southwestern or Tex-Mex style of fried tomato rice uses regular long-grain white rice and lots of fat to fry (or toast) the grains so they develop a rich nutty flavor. However, lots of fat isn't necessary to achieve a nutty, evenly toasted rice, so I reduced the fat content considerably. But why did I use jasmine rice and tomato juice?

First, regular long-grain white rice tends to dry out and become hard after refrigeration. It also doesn't reheat particularly well. Jasmine rice is different. It is a medium-grain rice that stays tender and is less likely to dry out. It also doesn't clump up like short grains – think risotto or Japanese sticky rice. This makes jasmine rice ideal for rice salads and rice sides you want to eat over several days.

What about the jasmine flavor? Plain jasmine rice has a distinct flavor and it is often associated with Thai flavors. Thai flavors are bold – lime, coconut, garlic, chili pastes. Jasmine rice plays nice with those. So why wouldn't it work with the bold Latin flavors that are quite similar! Truth is, it does play nice and it's a very versatile rice.

Second, tomato juice has a lot of built in culinary benefits. It works to color the rice a beautiful shade of red. It also possesses an interesting characteristic of savory salty yet faintly sweet. It adds a depth of "umami" or brothy meatiness. I used a low-sodium tomato juice to reduce the salt content and still benefit from the flavor complexity tomato juice provides.



Toasted Chipotle Tomato Rice Recipe

Serves 6
178 Calories per serving

Ingredients

8 fl oz – Tomato Juice, low-sodium
10 oz – Chicken Stock, unsalted
1 tsp – Cumin, ground
½ tbsp – Canola Oil
1 tbsp – Shallot, raw, finely chopped
¼ cup – Cilantro, fresh
2 oz – Cotija Cheese (can sub Monterey Jack or Asadero)
2 tbsp – Chipotle Peppers in Adobo Sauce
1 Lime, raw
1 cup – Jasmine Rice
1 Avocado, small diced
¼ cup – Almonds unsalted, crushed

Directions

At medium/high heat warm oil in a medium sauce pot.
Add rice and stir gently to coat. Stir and toss often to get even browning.
When rice is toasted (various shades for brown and tan) reduce heat – add shallots, adobo, cumin, cumin and pinch of salt. Mix well and cook for 2-3 minutes stirring occasionally.
Add stock and tomato juice. Bring to controlled low simmer. Cover. Cook for 12-15 minutes.
Remove lid. Let sit for 5 minutes. Do not stir or fluff.
Preferred method of fluffing rice: take rice pot and dump cooked rice into a large bowl. Using a large spoon gently sift through rice breaking up large clump and mix bottom to top. You should see large wafts of steam leaving the rice. This method lets the rice steam out becoming airy and easier to mix in ingredients, especially lime juice of vinegars. It is an extra step, but I feel the results are worth it.
Squeeze lime juice over rice, add in 1/2 the cheese and 1/2 the cilantro. Mix gently a few times.
Serve and garnish with remaining cheese, cilantro, avocado, and crushed almonds.
Nutrient Analysis:
Calories: 261 Protein: 7 g Carbs: 35 g
Total Fat: 11 g Sat Fat: 2.5 g Sodium: 123 mg
Fiber: 4 g

Sponsored by


Photo Credit: Andrew Dole