Andrew Dole, RDN, CEC
Everyday Chef, Fruits & Veggies—More Matters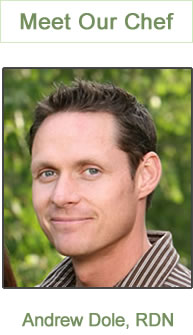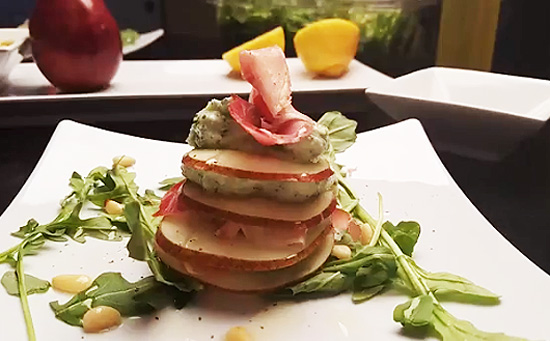 "I don't want leaves Dad," is something my son started saying to me when he was little. He's 16 years old now and I am sure leaves still aren't his favorite, but when you put together a salad that challenges everything people think of when it comes to the traditional greens course, you have a shot at changing minds!

This pear and prosciutto salad is inexpensive to make, gets style points for presentation with family and guests, and wows the taste buds with both flavor pairings and texture contrasts.

Think … fresh, creamy, salty, sweet, crisp, herby and easy!



Stacked Pear and Prosciutto Salad
Serves 6
117 Calories per serving

Ingredients

2 each – Pears
3 slices – Prosciutto
5 oz – Ricotta Cheese, low-fat
5 oz – Basil, fresh
2 cups – Baby Arugula
1 oz – Pine Nuts
¼ tsp – Black Pepper
1 each – Lemon
1 tsp – Extra Virgin Olive Oil (EVOO)

Directions
Dip fresh basil into very hot water for 10-15 seconds.
Immediately place basil into ice water and keep submerged until no warmth is left – reserve ice water.
Pat basil dry between paper towel.
Combine basil and ricotta into food processor. Blend so ricotta takes on a light green color and small flecks of basil can be seen.
Chill ricotta until firm.
While ricotta chills:
Cut lemon in half and squeeze juice into ice water.
Slice pear thinly about 1/8″-1/4″ thick. Place into cold lemon water.
To build salads:
Place about 1/4 cup of arugula on a plate, lightly spread out.
Pat pear slices dry. Place (1) pear slice in center of the plate.
Top with 1/2 tbsp chilled ricotta mixture.
Tear thumb-size piece of proscuitto and lay on top of ricotta.
Repeat 2-3 times, building a stack, end with small dollop of ricotta and prosciutto.
Garnish with pine nuts, pinch of black pepper, and drizzle of extra virgin olive oil.
Optional
Zest lemon. Sprinkle zest into ricotta and mix with spoon before building salads.

Nutrient Analysis:
Calories: 117 Protein: 7 g Carbs: 13 g
Total Fat: 6 g Sat Fat: 2 g Sodium: 211mg
Fiber: 3 g
Photo Credit: Andrew Dole