Andrew Dole, RDN, CEC
Everyday Chef, Fruits & Veggies—More Matters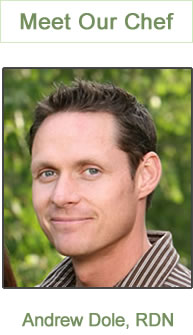 A good source of iron, magnesium, fiber, and vitamin C, the tomatillo often gets confused with a green tomato. But being a member of the nightshade family, like tomatoes, is about all they have in common. These jewels are wrapped in a leathery husk, sticky to the touch, bright green, and incredibly tart. They are wonderfully easy to handle and a key ingredient in salsa verde.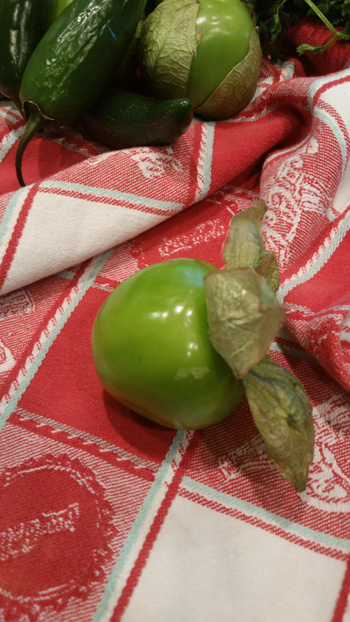 You will notice in my photos that the vegetables are wrinkly and showing some age. This is on purpose because when jalapenos mellow, they have less of a grassy flavor and gain a little heat as they ripen. Also, salsas, sauces and chutneys are a great way to utilize overripe fruits and vegetables. Don't throw them away!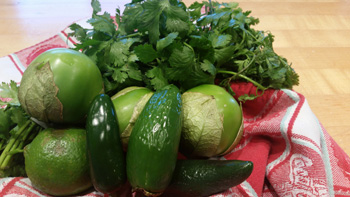 Salsa Verde Recipe
Ingredients
4 each Tomatillos, husked and rinsed
1-2 each Jalapenos, stemmed
½ cup Cilantro, tops only, rinsed, chopped
1 each, small Onion – optional, peeled, quartered
1 each Lime, juiced and reserve liquid
Salt, kosher to taste

Procedure
Oven @ 425°F.
1. Coat tomatillos, jalapenos, and onion (if using) with canola oil.
2. Place on baking sheet and roast, turning frequently as they blister and brown.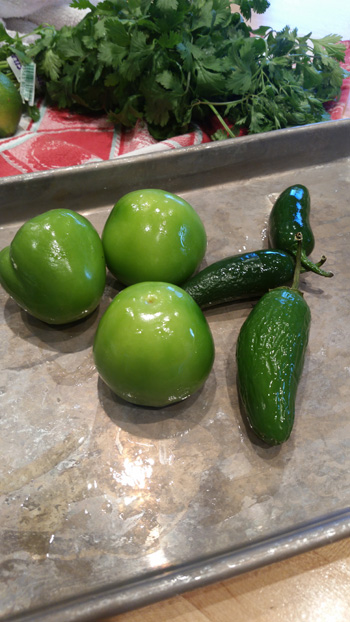 The tomatillos will burst, but that's ok. The goal here is to roast the fruits and vegetables until they are soft and the outside is spotted with charred skin.

You can also use the grill if you'd like a smoky hint or the broiler if in a hurry.

3. When tomatillos, jalapenos and onion are soft and blistered remove from oven.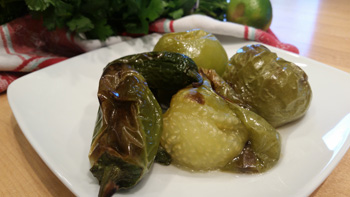 4. Small dice onion and reserve about ¼ cup.
5. Put tomatillos and jalapenos in blender. Don't add the onion. I don't recommend blending onions, ever. The flavor becomes too strong and takes over.

6. Pour any liquid on baking sheet into blender.
7. Add cilantro, a pinch of salt and 1-2 tbsp of water. Pulse in blender.
8. Continue to pulse until desired consistency is reached. Coarse blend is more rustic and goes best with entrées as a relish or hearty side dish. Smoother consistency is great for using as a sauce or dip.

9. Once desired consistency is reached, taste the salsa verde. Adjust flavor by adding small amounts of lime juice and salt.

10. Stir in small diced onions.

Allow to sit for 10 minutes before serving. The tomatillo tartness will soften a great deal.

Photo Credit: Andrew Dole