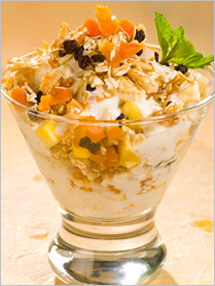 This tropical fruit parfait is easy to prepare
and makes a quick, cool treat.
For a different tasty treat, feel free to experiment with your personal favorite fruits, and remember, canned fruits can be used too.
Makes 5 servings
1 qt nonfat plain yogurt

2 vanilla beans

2 Tbsp honey

1 1/2 cups diced banana

1 cup diced mango

1 1/2 cups diced pineapple

1/4 cup diced dried apricots

1. Drain the yogurt for several hours or overnight in a cloth lined sieve under refrigeration.

2. Split the vanilla beans lengthwise and scrape the seeds into a mixing bowl.
Add the drained yogurt and honey.
Stir until well combined.
Refrigerate until needed.

3. Place the diced fruits in a bowl, toss to combine.

4. Alternately layer the yogurt with the fruit mixture in 5 clear glasses.

5. Top the parfait with granola and serve immediately.

Recipe by The Culinary Institute of America, developed for Fruits & Veggies – More Matters

Search our database for even more recipes!