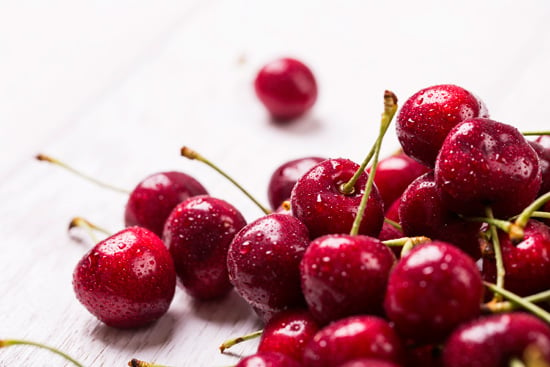 Tart cherries are often recommended as part of a healthy diet due to their purported health benefits, such as reducing post-exercise soreness and inflammation as well as improving sleep and heart health. Cherries may exert these physiological benefits because of their high phytochemical content, such as flavonoids like anthocyanins (found in deep red and purple fruits and vegetables) and epicatechins (also found in green tea) that have anti-inflammatory and antioxidant properties. Because of these properties, studies have evaluated the potential role of flavonoid-rich foods in the prevention of chronic diseases. Cardiovascular disease is one such chronic disease that is also the leading cause of mortality in the US and worldwide.1 One study showed that high intake of anthocyanins was associated with a reduced risk of heart attack in women.2 However, the mechanisms by which tart cherries, in particular, benefit the cardiovascular system are not well understood.
The Research

In a recent study, 15 men with elevated systolic blood pressure (≥ to 130 mmHg) participated in a randomized-crossover study.3 Participants consumed either a cherry juice concentrate beverage or a fruit-flavored placebo drink. Various assessments of vascular function and blood pressure were measured periodically for the following 8 hours. The cherry juice drink was made of concentrated Montmorency cherries (a type of tart cherry), equivalent to ~180 whole cherries and mixed in water. Fourteen days later, the men returned to the laboratory and repeated the test day, consuming the drink that they didn't consume on their first visit. Two hours after drinking the cherry beverage, blood pressure was approximately 7 mmHg lower relative to the placebo beverage. However, measures of vascular function did not differ between the two test days.
Our Advice

This is a small study that only evaluated the effects of cherry consumption over a very short period of 2 hours following consumption. The study reports no effect of cherry intake on important measures of vascular health including arterial stiffness, microvascular vasodilation, and blood pressure though systolic blood pressure did drop significantly. The results from this study along with other research on tart cherries suggest that making this fruit part of your regular dietary repertoire is a good idea. Indeed, tart cherry consumption has been shown to improve the antioxidant status of blood,4 which may reduce cellular damage. More research is needed regarding how regular, long-term intake of cherries influences cardiovascular function.

While you're waiting for more research, you don't need to wait to eat cherries! It may be unreasonable to consume 180 cherries worth of cherry juice (or whole cherries!) in one sitting, but you can still incorporate them into your diet regularly. Tart cherries won't be available fresh everywhere or for most of the year. However, you can find them canned, frozen, dried or as 100% juice year round.

New to tart cherries? Try our Banana Sour Cherry Smoothie for a refreshing breakfast or snack. Or if you're looking for a savory dish to prepare anytime of the year, check out our Pork Chops in Warm Cherry Sauce recipe!
1
Naghavi, et al. Global, regional, and national age-sex specific all-cause and cause-specific mortality for 240 causes of death, 1990-2013.
Lancet
(2015) 385: 117-171.
View
2
Cassidy, et al. High anthocyanin intake is associated with a reduced risk of myocardial infarction in young and middle-aged women.
Circulation
(2013) 127: 188-196.
View
3 Keane, et al. Effects of montmorency cherry (Prunus Cerasus L.) consumption on vascular function in men with early hypertension. American Journal of Clinical Nutrition (2016) 103: 1531-1539. View
4
Lynn, et al. Effect of a tart cherry juice supplement on arterial stiffness and inflammation in healthy adults: a randomized controlled trial.
Plant Foods and Human Nutrition
(2014) 69: 122-127.
View