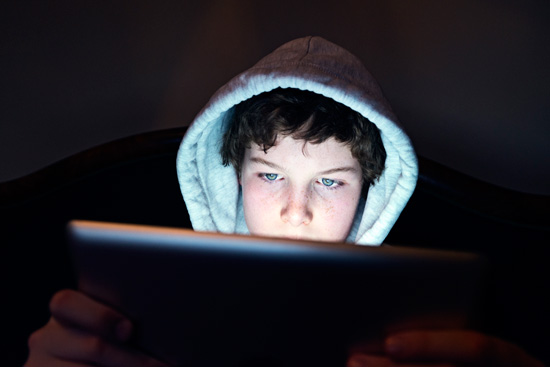 TheBUZZ Sedentary Habits Such as Screen Time Affect Mental Health in Adolescents?
WHAT THEY'RE SAYING
Sedentary lifestyle habits can lead to an increased risk of diseases associated with a lack of physical activity. Emerging research now suggests that a sedentary lifestyle can interact with mental health status in adolescents.
WHAT THE RESEARCH SHOWS
How a person spends their time impacts their health, for better or for worse. Active lifestyles lessen the risk of developing lifestyle-related diseases, such as obesity, diabetes and heart disease, among others. Being physically active can benefit mental and emotional health as well, new research shows.

A new study, published in the Journal of International Nutrition and Physical Activity, analyzed all research to-date on the association between various sedentary behaviors and mental health outcomes in adolescent populations.1 It is important to understand the specific behaviors and habits that influence adolescent mental health because this age group is known to experience specific health vulnerabilities, such as physical inactivity, poor nutrition, early pregnancy, depression, violence, alcohol, drug and tobacco use.2

The researchers defined sedentary behavior as "activities that require little energy expenditure including sitting or lying down (not sleeping) while watching television or playing electronic games, reading, studying, writing or working at a desk or computer (not for schoolwork)."1 This included screen time for leisure, defined as using electronic media like TV viewing, computer use and electronic gaming for entertainment. Adolescence was defined as being 10-19 years of age and mental health outcomes of interest were depression, anxiety, self-esteem, suicide ideation, loneliness, stress and psychological distress.

In total, 32 research articles have been published on this specific subject. Overall, the studies demonstrated a strong association between depressive symptoms and psychological distress and increased screen time for leisure among adolescents.3 Lower levels of screen time for leisure was associated with lower levels of depressed mood and the negative association between screen time and mental health emerged when adolescents were averaging more than 2-3 hours per day of leisurely screen time.1
WHY THIS MATTERS
The researchers speculate that there are several factors that influence the association between increased screen time and depressive symptoms, most primarily physical activity, weight status and diet.

Physical Activity: Physical activity has been shown to benefit mental health and social well-being, and it's possible that adolescents who experience poorer mental health lack the motivation to be physically active. These adolescents may turn to screen-based activities as a coping mechanism, therefore losing the protective benefits of physical activity.
Overweight and Obesity: Adolescents who are overweight are at risk for particular mental health vulnerabilities, such as weight-based teasing and bullying, stigmatism, poor body image, lower-self esteem. There is a complex relationship between unfavorable body composition, weight status and increased levels of sedentary behavior, which may lead to an increase in screen time, lack of social connectedness and feelings of isolation.
Diet: Higher levels of sedentary behavior are associated with less healthy dietary behaviors, such as low fruit and vegetable consumption and increased consumption of energy dense foods and sugary beverages. Nutritional deficiencies can impact mood and research has shown that poorer mental health status can lead to an increased appetite for sweeter and more processed foods.
OUR ADVICE
Behaviors established during childhood and adolescence are likely to shape behaviors and habits in adulthood, thus impacting immediate and long-term health. It's important to encourage children and adolescents to engage in physical activity and active behaviors on a daily basis to improve and sustain both physical and mental health. While being active, children and adolescents are spending time exploring, being imaginative, having fun, learning and interacting with others, especially when participating in organized sports or community events. Encourage your children, no matter their age, to be active. Here are some suggestions for activities to help your kids become active or stay active:

6 Ways to Help Change Your Kids' Habits

Take the Lead: Your child will follow your lead, so set a positive example by leading a healthy lifestyle yourself.
Start Small: If your child isn't currently active, you'll need to provide a lot of encouragement and support when changing habits. Aim for 10-15 minutes a day of physical activity, gradually progressing towards the recommended 60 minutes or more of physical activity per day.4
Include Your Kids: Whether you're walking the dog, going for a walk yourself, picking up groceries for dinner or gardening, invite your child to participate.
Identify Preferences: When picking activities, consider your child's preferences. For example, does s/he prefer group or individual activities, structured or unstructured? All physical activity is important, so encourage your child to find fun activities they enjoy. Forcing your child to participate in a physically engaging activity they do not enjoy will likely be met with opposition and will not stick.
Plan to Unplug: Set a goal of unplugging for an hour, an evening or even a full weekend. This will give you a chance to connect with one another and try new activities.
Explore Together: Plan a trip that's focused around a physical activity, such as hiking, a nature walk, a trip to the zoo, a camping trip, a day at the beach, exploring a new city, visiting a museum or planning a picnic at a nearby park.
1
Hoare, Erin, Karen Milton, Charlie Foster, and Steven Allender. "The Associations between Sedentary Behaviour and Mental Health among Adolescents: A Systematic Review."
International Journal of Behavioral Nutrition and Physical Activity.
BioMed Central, 19 Apr. 2016.
View
2
Adolescents: Health Risks and Solutions. World Health Organization (2016).
View
3
Depression (major Depressive Disorder).
Depression (major Depression) Symptoms.
Mayo Clinic (2016).
View
4
Making Physical Activity a Part of a Child's Life.
Centers for Disease Control and Prevention.
Centers for Disease Control and Prevention (2015).
View