TheBUZZ Fruit Intake During Pregnancy Leads to Cognitive Enhancement in Infants?
August 17, 2016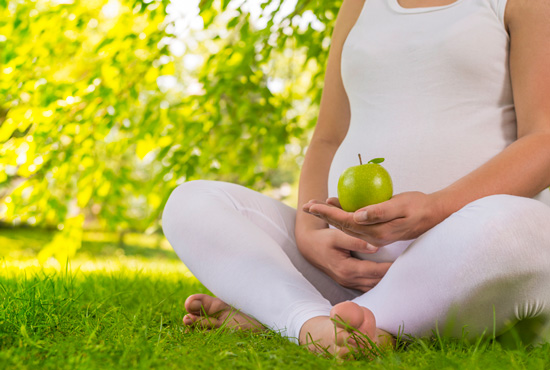 WHAT THEY'RE SAYING
If you're currently pregnant or planning to become pregnant in the near future, you're going to want to increase your fruit intake. Recent research demonstrates that increased fruit consumption during pregnancy is linked to significant increases in infant cognitive performance.1
WHY THIS MATTERS
Fruit and vegetable consumption has countless health benefits. A well-balanced diet rich in fruits and vegetables helps reduce the risk of developing many diseases and illnesses while enhancing an individual's physical, mental and emotional wellbeing. Recently, science has demonstrated that women who are pregnant are not the only ones who benefit from fruit consumption. Infants whose mothers consumed fruit during their pregnancies show impressive cognitive gains. Pregnant women whose diets are rich in vitamins, minerals, antioxidants and fiber found in fruits and vegetables are contributing to their child's wellbeing well before the child is even born. Can you think of a better way to set a child up for success?
WHAT THIS MEANS
Cognitive performance is determined by two main factors: the first is genetic, and the second environmental. A person has absolutely no control over their genes; this factor is entirely predetermined before the person is even born. The second factor, environment, is largely within an individual's control. All the lifestyle habits above are controllable, environmental factors. Some environmental factors, such as a person's income, place of residence, and level of education are harder to control but still changeable. Many environmental factors are controllable and can lead to positive or negative health outcomes. When a pregnant woman chooses to smoke or spend time around people who smoke, drink alcohol, engage in little or no physical activity or eat large amounts of junk food while pregnant, she is not creating an environment that is conducive to setting a child up for success.
THE STUDY
In the present study, expectant mothers were invited to participate, generally in the second or third trimester. After giving birth, children in the study were seen within 1 month of the their 1st birthday during the day at a time that the parent felt the child would be most awake (i.e. not during nap time). The following areas of cognitive development were assessed: visual preference, attention, memory, exploration, manipulation, and concept formation. In addition, a second infant adaptive behavior questionnaire assessed the infants regarding their communication use, self-care, self-direction, health and safety, leisure, and social behavior. Children with known causes of developmental delay (e.g. Down syndrome, autism spectrum disorder) were excluded from the study.

Mothers completed a 175-item self-administered food frequency questionnaire at the beginning of the study. The questionnaire asked pregnant mothers to report the frequency and portion size of food since becoming pregnant. Their "total fruit intake" was the total sum of servings of fruit, including fruit juice, per day of pregnancy. A serving was defined as a medium portion of fruit as either a ¾ cup of 100% fruit juice, ½ cup of fruit, or ¼ cup of dried fruit.
RESULTS OF THE STUDY
Results of the study showed that increased daily fruit intake during pregnancy was significantly associated with increased 1-year cognitive development outcomes in infants. For each daily serving of fruit a mother consumed during pregnancy was associated with a 2.38 point increase in cognitive development at 1 year of age in infants (the cognitive development scale was scored from 0 to 150 points). Lycopene, a red carotene with antioxidant properties found in deep red, orange, yellow and green leafy fruits and vegetables, was the food nutrient most strongly associated with cognitive development.
OUR ADVICE
A balanced diet rich in a variety of fruits and vegetables is an essential component of a healthy pregnancy and a healthy infant. From the moment a woman learns she is pregnant, she can begin sustaining or developing healthy habits that will benefit both herself and her unborn child. During pregnancy, a woman has special dietary needs to support the development of her child.2 Throughout pregnancy, a she should consume at least 2 cups of fruit each day. A cup of fruit consists of either 1 cup of raw or cooked fruit, 1 cup (8 oz) of 100% fruit juice, ½ cup of dried fruit or a small whole fruit. The results of this study support an increased consumption of fruit (or more than the current recommendation of 2 cups) for pregnant women each day.

If you're pregnant or planning to become pregnant, here are some tips to increase your daily fruit intake.

For breakfast, try a banana peanut butter smoothie with almond milk (for added protein!).
Top oatmeal off with slices of cinnamon apples, bananas, blueberries, strawberries or dried fruit and nuts.
For a refreshing and sweet snack, prepare fruit salad with your favorite summer fruits, such as blueberries, cantaloupe and watermelon.
Toss some berries and granola into yogurt.
Spread a buttery avocado on whole-grain toast
Dip apples in your favorite nut butter.
Add dried fruit to salads and rice dishes for a hint of sweetness.
Enjoy slices of fruit on your favorite dessert.
Love chocolate? Try this dark chocolate avocado mousse!
1
Bolduc, Francois V. et al. Cognitive Enhancement in Infants Associated with Increased Maternal Fruit Intake During Pregnancy: Results from a Birth Cohort Study with Validation in an Animal Model.
EBioMedicine
, 2016: Volume 0, Issue 0.
View
2
Tips for Pregnant Moms. United States Department of Agriculture (2016).
View