It's quite the understatement to say that I love chocolate. Even though I typically tend to favor savory over sweet foods, all that goes out the window when it comes to chocolate. I'm not too picky either: brownies, ice cream, dark chocolate squares – they all receive equal admiration. Of course, as a Registered Dietitian, I'm not immune to the fact that most of the chocolate I enjoy comes with nutrients that I don't, particularly saturated fat and sugar. While raw cacao does contain a plethora of antioxidants, the added butter and sweeteners prevent milk chocolate from bearing any health food labels.
Therefore, I created this creamy, chocolate mousse as a replacement for my favorite ice cream and pudding treats. It's rich in chocolate, but packed with healthy monounsaturated fats and fiber. The secret is whipping ripe avocado with unsweetened cocoa powder and just enough maple syrup to add flavor without too many calories. It's the perfect compromise between decadent and healthy.
If you're nervous about this mousse tasting like avocado, don't worry, you will never know it's there. I've served this dessert to countless guests who were shocked when I told them it was made with avocado! Once you try this version, feel free to change up the ingredients. For a fun twist, add in a squirt of fresh orange juice, a little frozen banana for a frosty-like treat, or layer it with fruit to create a parfait. Either way, you'll love this chocolate dessert.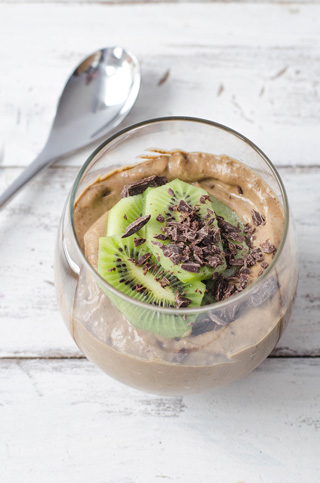 <
Dark Chocolate Avocado Mousse Recipe
Serves 2
Ingredients
1 large avocado
¼ cup unsweetened vanilla almond milk (or other milk)
2 tablespoons dark cocoa powder
2 tablespoons 100% pure maple syrup
¼ teaspoon vanilla extract
Fruit topping, optional
Place all ingredients in a blender or food processor and blend until thick and creamy. It should be the same texture as a mousse. Place into a bowl and top with fruit, if using.
Photo Credit: Alex Caspero