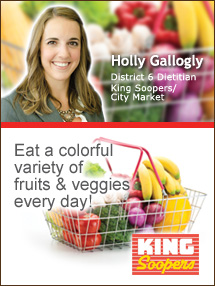 Have you made a nutrition-related New Year's resolution? If not, adding a colorful variety of
fruits
and
vegetables
to your day is a great goal for anyone! Use produce to help you
lose or maintain weight
, improve overall health, save money, and add more of a fruit and vegetable focus to your meals. Make this the year to keep your New Year's resolution to create a healthier, happier lifestyle.
When shopping in the produce aisle, think about all of
the health benefits associated with eating a colorful variety of fruits and vegetables
and make it your playground!
Fruits and vegetables are …
low in calories
low in sodium
low in refined sugar
high in fiber, vitamins, and minerals
Eat A Rainbow of Colors
If you've made a weight loss goal for this year, fruits and vegetables are great sidekicks to any meal to help you achieve your goals, and color is a good indicator of different nutrients that all have health benefits. It's important to eat all of the different colors so that you don't miss out on any of the nutrients. Aim to eat a rainbow of colors from the produce area each and every day.

Below are some examples of fruits and vegetables from each color group to help you make your shopping list. This is also a great way to get the kids to try a new produce item each week! Each of the below color groups provides important nutrients that the body utilizes to function properly and help prevent chronic disease.
Green: green apples, asparagus, avocados, green beans, broccoli, Brussels sprouts, green cabbage, cucumbers, green grapes, honeydew melon See More

Yellow/Orange: yellow apples, apricots, butternut squash, cantaloupe, carrots, grapefruit, lemons, mangoes, nectarines, oranges, papayas, peaches, pears See More

Red: red apples, beets, red cabbage, cherries, cranberries, pink grapefruit, red grapes, red peppers, pomegranates, red potatoes, radishes, raspberries See More

Blue/Purple: purple asparagus, black beans, blackberries, blueberries, black currants, boysenberries, purple cabbage, eggplant, figs, black olives, plums See More

White: bananas, black-eyed peas, cauliflower, garbanzo beans, garlic, ginger, jicama, mushrooms, onions, parsnips, brown pears, potatoes, shallots, turnips See More
To help save money, shop in season. It's also a good idea to have canned and frozen fruits and vegetables available in the freezer or pantry since these items provide the same good nutrition and provide added convenience at a great price!

The recipe below uses a vegetable you may not buy as often due to a lack of recipes: cauliflower. Enjoy!

Recipe
Cauliflower Macaroni & Cheese
Makes 4 servings

Ingredients

2 ½ cups low-sodium, low-fat chicken broth
2 bay leaves
1 cauliflower, cut into large pieces
8 ounces whole wheat elbow macaroni
¾ cup grated or shredded Parmesan cheese, divided
2 tablespoons olive oil
1 tablespoon Dijon mustard
⅛ teaspoon nutmeg
Salt and pepper to taste

Preheat oven to 400° F. Bring a pot of water to boil. Cook cauliflower in the boiling water for 25 minutes. Meanwhile, in a saucepan, warm stock and bay leaves on medium-low heat for 5 minutes; turn off heat.

Cook pasta in boiling water for 5 minutes. Drain and rinse, then place in a greased 9 inch square baking dish.

When cauliflower is tender, place it in a food processor. Process cauliflower with stock (discard the bay leaves), ½ cup cheese, oil, mustard, nutmeg, salt, and pepper. Pour sauce over pasta. Toss and spread evenly. Top with ¼ cup Parmesan cheese. Bake for 20 minutes.
Holly Gallogly, RD
District 6 Dietitian
King Soopers/City Market
Fruit & Vegetable Recipes
Video Center: Selection, Storage, and Preparation of Fruits & Vegetables.