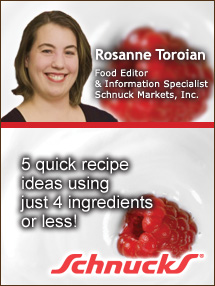 It doesn't take too many ingredients to prepare a heavenly dessert, especially with fresh, ripe, seasonal fruit. Below are 5 quick recipe ideas using just 4 ingredients or less!

Recipe 1
Toss 1 pound fresh hulled strawberries with 3 tablespoons melted butter, 3 tablespoons brown sugar and ¼ cup balsamic vinegar. Transfer to large rimmed baking pan and roast at 450°F 10 minutes or until strawberries soften and sauce thickens. If desired, serve over ice cream with pound cake.
Recipe 2
Freeze 3 cups fresh raspberries, blackberries or blueberries in a single layer in rimmed baking pan overnight or until very firm. In food processor with knife blade attached, pulse berries until fruit is very finely shaved. Add a 6-ounce container lemon or lime-flavored yogurt and ¾ cup confectioners sugar, and blend until mixture is smooth and creamy. Serve immediately or freeze to enjoy later.
Recipe 3
Line rimmed baking pan with foil and preheat broiler. Cut 12 figs lengthwise in half; drizzle cut-side of figs with honey, and, if you like, sprinkle with fresh thyme leaves. Broil 2 to 4 minutes or until tops bubble. In small bowl, mix ½ cup whipped heavy cream, ½ cup crème fraîche and ¼ cup honey. Spoon a dollop of cream mixture into dessert bowls and top with warm figs to serve.
Recipe 4
In bowl, stir 1 pound sliced firm-ripe peaches with ¼ cup sugar until sugar dissolves. In bowl, stir 1 pint slightly-softened vanilla ice cream with 3 to 4 tablespoons Marsala wine, brandy, peach liqueur or peach nectar. Layer ice cream with peaches in tall parfait or wine glasses to serve.
Recipe 5
In bowl, mix 8 ounces mascarpone with a 10-ounce jar lemon curd. Cut store-bought pound cake horizontally in half. Spread ½ cup mascarpone mixture on bottom layer of cake. Replace top layer of cake; spread remaining mascarpone mixture on top and around sides of cake. Arrange fresh raspberries on top of cake.
Food Editor & Information Spet